SVVSD Honor Band: A Performance to Remember
Students mill around, adjusting shirtsleeves, ties, and collars as they anxiously wait for the start of warm-ups. As guest conductor Dr. Wesley Broadnax takes the podium, a hush falls over the crowd, and the performance begins.
Students from almost every high school in the district were represented in the St. Vrain Valley School District Honor Band that rehearsed and performed Monday, February 14, including several students from Silver Creek.
Every year, a collegiate band director from a local school is invited to conduct the Honor Band. This year, that conductor was Dr. Wesley Broadnax, Director of Bands at the University of Northern Colorado. Working with Dr. Broadnax was a refreshing experience for students who have only worked with their band directors and occasional substitutes for their high school band experience.
"He [Broadnax] was super enthusiastic about the music," says Silver Creek flute player and senior Marin Snyder. "My favorite part of the experience was during rehearsal when … we'd been trying to practice all day and then [the difficult parts] came together."
However, Dr. Broadnax didn't want to just share his different conducting styles; he also aimed to pick new music that students had never seen or heard of before.
Silver Creek flute player, Sudhiksha Sivakumar says, "My favorite part of the experience was the climax of Celestia's Horizon the first time we played it."
The piece Celestia's Horizon by Katahj Copley was composed to represent a sunrise, and it was played by the honor band at their performance. Copley, a rising conductor working towards his Master's degree, composed the piece in 2020.
"In honor band there's usually harder Bassoon music," Silver Creek bassoonist, Madeline Legg, explains. "It's really cool to get music that I have to really practice and can play with a much more advanced group than we have at school."
Legg has been accepted by audition to the SVVSD Honor band for five years. She has always worked hard on her music, and even had some help from her father, Silver Creek band director, Bill Legg.
Though Legg did not get to participate in the district honor band this year because of her participation in the Valentunes (where choir students sing to students as a Valentine's Day fundraiser), she still enjoyed getting to practice the music and listen to some new pieces.
Under normal circumstances, the district honor band consists of two rehearsals: an after school and an all day. This year, though, there was a snowstorm that canceled both the after school rehearsal and the all day rehearsal. When the honor band got rescheduled, there was only time for the all day rehearsal. Typically, when the after school rehearsal is canceled, as it was this year, a song gets eliminated.
Dr. Broadnax decided to keep all of the programmed songs for this year's performance,despite the middle school cutting two of their songs to adapt to Colorado's sudden inclimate weather.
However, some performers disagreed with Broadnax's decision. Snyder says, "We definitely could have benefitted from having more time. It felt very condensed, and I don't think we had enough time to put together a full, really good program."
The St. Vrain Valley School District Honor Band was a night of beautiful music and a story of hard work and perseverance. From the morning full of tired eyes and slow warm ups to the concert evening brimming with excitement and joy, every participant was able to feel the magic of creating music and sharing it with others.
Leave a Comment
About the Contributor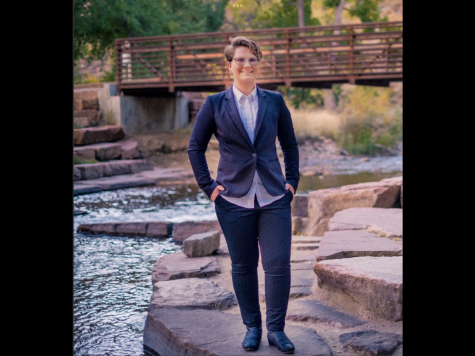 Shenandoah Waugh, Staff Writer
Shenandoah Waugh is a senior at Silver Creek High School and a first year Journalism student. They joined the journalism class because of their interest...