Midnight Melodies
Only 5 minutes left, just 5 more minutes of waiting. Everyone who was counting down the days, hours, and minutes until Taylor Swift dropped her newest Album, "Midnights", knows that the last 5 minutes felt like an eternity. There had been so much suspense leading up to the release date, that no one could wait any longer.
On October 21, 2022 Taylor Swift, the world famous country/pop singer and songwriter, finally released her latest album, "Midnights", for the world to hear! This is her 10th studio album. She released it at exactly 12:00 AM ET to convey the theme of midnight that her album has been set to. But there is so much more to this album than the songs itself!
Taylor Swift is known for her easter eggs and building up suspense for her fans before her albums are released. She has done this with most of her albums but was especially creative with the promotion of "Midnights". She had done some of her promotion on the social media platform TikTok, but did most of it on her Instagram. Any fans that followed her were able to get hints at the album and its contents on her page.
Taylor Swift has a way of drawing her fans in and making them excited for her newest albums and songs to come due to her promotion style. Ainsley Samatas, a sophomore at Silver Creek and Taylor Swift fan, was so excited to get to listen to the album due to the hints she got from Swift's instagram.
"What I like about her is that she hints at all of her albums," Ainsley Samatas says. "So it doesn't really tell you, but it makes you eager to see if it's gonna happen … and so she's been leading up and having little hints about 'Midnights'."
Her promotion and advertising ways with "Midnights" has been proven to be very effective. Fans were so excited to listen to the album that they played it right when it dropped. Swift currently has the 3rd most streams in a single week by an album to date. In the first 6 days of the album's release, there were 486 million on-demand official streams. (Taylor Swift's 'Midnights' Passes 1 Million Units in U.S. – Billboard). That includes audio and video combined.
The album has made its way around Silver Creek High School, with many students and teachers listening to what Midnights has to offer. Stephanie Drake, English teacher at Silver Creek High School, has listened to the album and also got to see Swift's style of advertising in action.
"I think it's so innovative how she reinvents herself and her image in every album." Drake states. "She almost has a reset every time she releases a new album with her visuals, her style, the themes in whatever is about to be released in her albums. So I think that is really creative. I don't know of other artists that do that so completely."
Taylor Swift has done everything to match the theme of midnight to go with her album. She posted midnight themed posts on Instagram, released the album at exactly midnight, she even has the word midnight in every song on the album. She did not disappoint in advertising the album.
The songs on the album are different compared to some of Taylor Swift's others. This might have caused some fans to be a little unsure of the album at first. Ayla Samatas, senior at Silver Creek High School and diehard Taylor Swift Fan talks about her opinions on the songs.
"To be honest I was a little disappointed in the album at first," Ayla Samatas explains. "I wasn't expecting the songs to sound the way that they did and I really only liked two or three songs. But, now that I have listened to it more, I love it! I really like how unique and different it is, I can't stop playing it."
Overall, Taylor Swift's album was a huge success! It is blasting through the billboards and more people are listening and falling in love with the beautiful melodies and meaningful metaphors. The advertising was a great way to kickstart the album's debut. Fans cannot wait to see what she will come up with next!
View Comments (1)
About the Contributor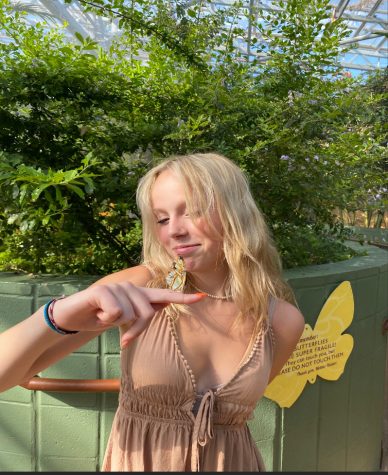 Carlynn Foley, Staff Writer
Carlynn Foley is in 10th grade this year at Silver Creek High School. She has never taken journalism before and is excited to learn what the class has...