Review on Ginny and Georgia
This review examines the Netflix show Ginny and Georgia. Viewer discretion is advised as there are drugs, alcohol, and sexual references. This show is about a teenage girl and her mother getting through life. This show is intended for young adults.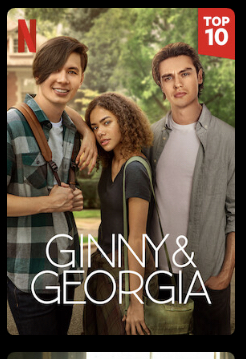 The Netflix show Ginny and Georgia, created by Sarah Lampert, is an extraordinary watch. While, like every show, it has a few questionable moments, it definitely a show to invest your time into. If you find an interest in love, drama, comedy, and friendship, then this is the show for you!
Ginny and Georgia does an exceptional job of showing the life of an American teen, Mom, and family. Ginny and Georgia is about a mother and daughter who are going through life struggles together. Ginny Miller (played by Antonia Gentry), is a regular American teen who is constantly moving from place to place. In the first episode, Ginny's mother, Georgia Miller (played by Brianne Howey) takes Ginny and her brother Austin Miller (played by Diesel La Torraca) to the town Wellsbury, Massachusetts, where Ginny's life changes forever.
The writers of Ginny and Georgia did an excellent job at showing Ginny's beliefs. In the first episode "Pilot", Ginny's English teacher only gives out books to read by white men. Ginny immediately has a problem with this. In the trailer for the show, she argues, "There are sixteen books on this syllabus? Fourteen of them were written by men, fifteen were written by white people, and I'm willing to guess the one black author made it on just in time for black history month." Immediately this shows how strong and driven the character Ginny is.
The audience of young adults can relate to the characters of Ginny and Georgia. This series doesn't show the perfect American teenage life, it shows real life, how things aren't perfect. it shows the insecurities a girl goes through, the questioning of everything about your life, the worries that that one guy isn't going to like you back.
This series shows the idea of real teenage love. It shows what real teenage romances are like. For example, how some love interests like Hunter Chen (played by Mason Temple) can be so good to you, while other guys like Marcus (played by Felix Mallard) can draw up some red flags. Ginny and Georgia also has an LGBTQ romance in this story. It shows Maxine (played by Sara Waisglass) and her troubles in being a teen girl who isn't interested in the same gender as her other friends. Maxine can't relate to what they're talking about when they think about love. Having this romance in the show was an outstanding move by the writers of the series. It shows that LGBTQ romances are normal and they should be normalized. The writers showed the struggles of being a gay teenage girl and how difficult it can be sometimes.
Another persuasive element in the series is that it shows the deep connections the viewers can have with people. It shows the connections you can have between friends, boyfriends and girlfriends, and connections that you can have with your family. While Ginny and her mother Georgia are close in age, it shows how being a mother is one of the most important joys in Georgia's life.
Ginny and Georgia, shows the power of a strong female lead, through both Georgia and Ginny. This series really shows how Georgia is a strong, independent woman and can take care of herself. Georgia's character shows that she can handle things on her own and take care of her family. While Ginny's character shows that your beliefs are your beliefs, and no one can change that. This show does an exceptional job at showing the power in a strong female lead.
Finally, the series shows the imperfections of life. It shows how life isn't perfect. You get to see the struggles of being a sixteen year old girl, and the difficulties of being a single mother of two. The show doesn't sugar coat things like break ups, or being a girl in America, and school.
Ginny and Georgia is overall a great show. It captures the idea of what dramas and life experiences a teen goes through in their life. It shows the imperfections of a relationship between a mother and daughter relationship, romances, and friendships because nothings perfect, nothing can be perfect.
Leave a Comment
About the Contributor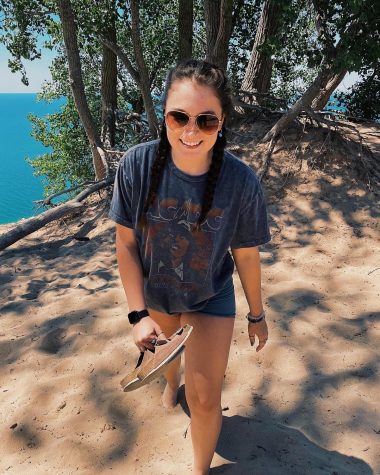 Olivia Enright, Editor in Chief
Olivia is a senior at Silver Creek High School, and this will be her third year as a member of the journalism program and her first year as the Editor...