Sing to Me Instead Review: Ben Platt's Album Provides a Beautiful Distraction
A pop album sung with the talent of Broadway? Yes, please.
Sing To Me Instead – Ben Platt – Atlantic Records – Run time: 44:49 – Released March 29, 2019 – Producers: Jennifer Decilveo, Finneas, Alex Hope, Michale Pollack, Jordan Riley, Andrew Wells
Amid the chaos of trying to function through a pandemic, music is one of the most attainable -and necessary- distractions out there. Whether the goal is to find pop songs to sing along with in the car or soft ballads to make you curl up and have a cathartic cry, Ben Platt's Sing to Me Instead is the album that has something for everyone. The lyrics address many different sides of life, love, and general experience, all supported by Platt's exceptional vocal range, emotional expression, and music compositions.
Sing to me Instead is the debut studio album of Broadway and television star Ben Platt. Platt is best known for his Broadway roles in The Book Of Mormon and his Tony, Emmy, and Grammy award winning performance as the lead character in Dear Evan Hansen. Those not familiar with Broadway may know him from his appearances in the Pitch Perfect film series and his Netflix comedy series The Politician, for which he was nominated for a Golden Globe.
First released as a pop album March 29, 2019, Platt's twelve track record Sing To Me Instead has since been accompanied by a Netflix Special entitled Ben Platt Live From Radio City Music Hall and a Deluxe Edition including eight bonus tracks. The album was produced and composed primarily by Jennifer Decilveo, along with Jordan Riley and Michael Pollack. Platt had a hand in writing and composing every song, and most draw on his personal life experience.
Through his first non-theatrical record, Platt attempts to show the world his own life and views rather than personifying those of a fictional character for the first time. The lyrics and accompanying music video of the first lead single, "Bad Habit", gave the public insight into Platt's personal life for the first time. The themes of the song and male actor accompanying him in the music video of this romantic ballad confirmed the long-time media speculation on his homosexuality. From the start, Platt established that this album would be candid.
Even those not acquainted with Platt's personal connections will find intrigue in the themes of deep emotional struggle of true, genuine love explored throughout the album. The lyrics of every song, while unique in topic, style, and structure, all show a pure and relatable representation of human struggle.
Track thirteen, "So Will I", contains an expertly crafted chorus containing metaphor enough to rival the best of poetry: "That the sky will still be up there/ And the sun will always shine/ The stars will keep on fallin'/ For the ones who wish at night/ The mountains won't start moving/ And the rivers won't run dry/ The world will always be there/ And so will I." Platt creates beautiful imagery to illustrate a beautiful sentiment.
The narrative structure of "Run Away" relays the passing of values from parent to child, while the stories contained in "Honest Man" and "Ease My Mind" beg for reprieve in unrequited love.
The themes of "Hurt Me Once" have far more depth than your average pop song, giving an authentic account of a hard and unequal breakup in a "time to rip the bandaid off" sort of tone. The lyrics include sentiments such as, "Don't humor me with kindness/ There's nothing kind about a hundred small betrayals."
Just when it seems the emotional strain caused by this album will be too extensive to recover from,"New" and "Share your Address" are happy, optimistic pop songs of new love and fresh adventures. Through the course of a 45 minute run time, Platt's lyrics alone will send any listener on a whirlwind of emotions they may take days to recover from. Hard breakups, family expectations and exciting new relationships are all topics that most everyone on the planet has experienced; and can experience again through this music.
Not to be outdone by the lyrics, Platt has no reservation in showing off his superior vocal talent in most every track. The high notes and voice control in the riffing through songs such as "Rain" and "Better" prove that Broadway levels of skill can be beneficially incorporated into mainstream pop songs.
To add yet another layer of intrigue on an already exceptional album, the supporting musical tracks are specifically tailored to the tone of each song. Harmonies used are often those of piano, guitar, and background vocals, but Platt and his team are not afraid to throw in string arrangements, drums, and even trumpets when needed. The great diversity of music accompanying the lyrics only serve to heighten the general production value.
Sing To Me Instead may be a debut album, but the quality of the songs make it clear that Platt is far from a novice in the music industry.
Leave a Comment
About the Contributor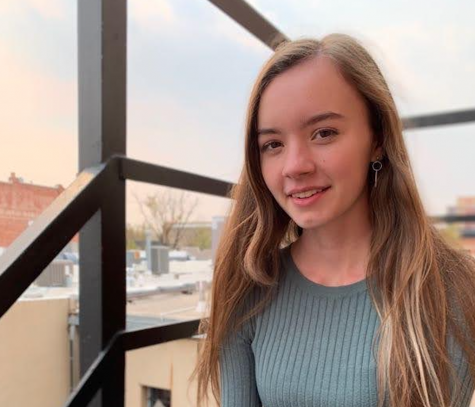 Alexis Wright, Staff Writer
Alexis Wright is a Senior at Silver Creek High School. This is her first year in Journalism. She enjoys reading, writing, baking, and hiking across Colorado...