Start of Something New for Silver Creek Girl's Basketball
Silver Creek High School girls basketball is starting something new for the upcoming 2021-2022 season. As of June 2021, Silver Creek High School hired a new head coach, Catherine Peterson. This hire comes after previous head coach Ashlee Runyon stepped down. Coach Peterson is in pursuit of a winning record from her first season as head coach.
In her coaching career, she has coached both volleyball and basketball. More specifically junior varsity and assistant head coach for girls basketball in Champaign, Illinois. Previous to that, Peterson played basketball all the way through college at Geneseo College in New York state. She is now fulfilling one of her biggest career goals.
"My professional goal has been to have a head coaching job in a high school", said Coach Peterson.
Now that that goal has been accomplished her first season is quickly approaching. The program has not had a large group together with Peterson yet. With summer workouts being far and few between and fall athletes not being allowed to participate, the new coach has yet to meet many of her key players.
While waiting, those able to participate have been attending the Tuesday and Thursday open gyms weekly at Silver Creek with Coach Peterson. These have involved developing fundamentals as well as getting to know the skill sets of the attendees as much as possible. With the season quickly approaching, anticipation is growing.
"What I am most looking forward to is actually getting the team together, seeing what we've got and where we want to go", said Coach Peterson.
As fall seasons conclude, the opportunity to do so begins. Peterson joins the program with six returning seniors.
Ashley Gacetta, senior, and three year varsity basketball athlete wants,"somebody [a coach] who will push us and make us better every single day but is also our biggest cheerleader and makes it a fun environment to be in".
The girls basketball team, alongside Ashley Gaccetta and Coach Peterson start officially on November 14th, 2021. The full season will include 23 games including a home opener against Loveland on November 30th, 2021. On the home opener, fans, athletes, and coaching staff will be able to see if her keys to success are translated onto the court.
Coach Peterson's keys for success this season are, "communication, defense, and rebounding".
For fans coming to watch these should be something to look for as the team hits the court.
A regular fan, Cecilia Adams believes a new coach will "change the atmosphere and hopefully bring a winning streak to the team."
A new coach and a new season means a new shot at this winning streak. A Colorado High School Athletics Association basketball season is four months long and allows great opportunities for Coach Peterson to lead the program to victory, direct it through loss, and build a new community at Silver Creek High School for girls basketball.
Leave a Comment
About the Contributor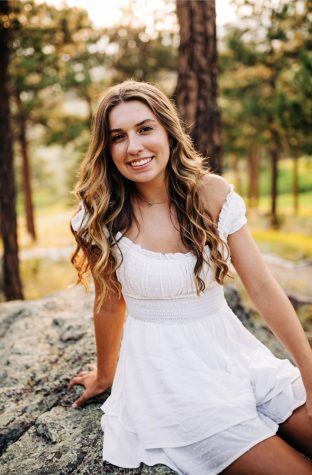 Mackenzie Larson, Staff Writer
This is Mackenzie Larson. She is a 12th grader at Silver Creek High School. Mackenzie is taking journalism because there is a chance that she will study...