Final Night for Fall Seniors
On October 14th, 2021 four years of hard work was summed up for the senior cheerleaders and football players on their celebratory night. They were all honored at halftime of the football game versus Windsor at Everly Montgomery field.
Senior night is a tradition where athletes celebrate the dedication to their teams on the day or evening of their final home event. It tends to be an emotional night for participants, family members, and friends who know and have watched the seniors grow up.
This seasons football seniors include Jordan Dezell, Eli Hubert, Bridger Sutherland, Jake Wenande, Bryce Gorr, Rodrigo Ordonez-Enriquez, Pepi Dostal, Zack Hirman, Jeren Young, Tanner Stevens, Bradon Tanner, Jake Johnson, Aiden Lathrop, Shane Woods, and Jacob Daker. Their home record this year was 2-3, coming out of senior night with a 13-19 heartbreaker loss.
Senior, offensive lineman, and linebacker Pepi Dostal stated, "It was sad and emotional. Every senior was crying because it was our last home game."
On the sidelines of this game was lone cheerleading senior Bridget Hauger. Bridget is the only cheerleader from the class of 2022 that chose to stay on the cheerleading squad all four years. Hauger is now a team captain and flyer for the 15 person varsity squad.
As the only senior, Hauger leaves her teammates with one thing to remember, "…they're lucky to have teammates in their grade by their side."
Hauger plans to continue her cheerleading career in college at an undecided location. Although she is looking forward to it being in a warmer year round state than Colorado.
The seniors from both cheerleading and football got their names announced by Silver Creek principal Erick Finnestead while their younger teammates cheered them on. Principal Finnestead has been at Silver Creek for 11 years and witnessed what he believes to be more than one hundred senior night celebrations between Silver Creek's 22 different athletic programs.
Finnestead said, "It [senior night] is to see the culmination of their hard work and what the seniors have done for those programs. They truly are leaders in these programs. They show younger kids how to work and how to achieve at high levels."
These athletes have had many people involved in their journey along the way. Senior running back Aiden Lathrop's father Jason Lathrop watched his four years as a parent as well as a Silver Creek faculty member.
Jason Lathrop stated, "Sometimes we forget to stop and be thankful. I think in those moments what they should be about is just stopping and thanking the universe for giving you the opportunity to have kids who are healthy and doing well in school, a good school."
Aiden Lathrop in the first football game of the year broke his right leg and was ruled out for the rest of their season except for their game against Brighton High School, their final game. Much of his extended family still attended senior night including his grandma, grandpa, aunt, and his aunt's family.
Jason Lathrop again said,"Senior night is about not just senior year but the whole experience, the whole ride, and we were there to celebrate that too."
Although Aiden Lathrop's season may have been cut short, his four year journey as well as the rest of the football and cheer seniors was nothing close. This season's senior night included a bouquet of flowers for the athlete's escort as well as a reading about their future plans, favorite memories, and more. Silver Creek is looking to improve their senior night celebrations for the upcoming winter athletic season and the future. This is being led by athletic director Patrick Decamilis and principal Erick Finnestead as a way to further show the schools gratitude.
Finnestead said, "I am incredibly grateful and thankful for their [fall seniors] contributions to our school."
Silver Creek will continue this tradition for classes and seasons to come as a way for students, faculty, community members, and family to collectively celebrate one of the many senior year milestones.
View Comments (2)
About the Contributor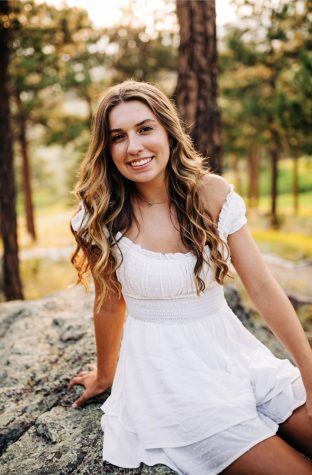 Mackenzie Larson, Staff Writer
This is Mackenzie Larson. She is a 12th grader at Silver Creek High School. Mackenzie is taking journalism because there is a chance that she will study...