Silver Creek D Team Arrives Home Without a Win from Long All Day Tournament
On the 18th of September, Silver Creek volleyball D team traveled to Resurrection Christian High School in Loveland, Colorado to compete against four other schools.
The D team is one of the beginning teams at Silver Creek High School. This team is strictly dedicated to progression, not perfection. The team includes new players to some players that have played multiple seasons. These dedicated athletes practice everyday after school for two hours on non game days, and on game days they get home even later.
The purpose of tournaments is to give players a chance to showcase their team to other schools. Playing in tournaments allows the school to have a record for teams, such as who won what and who played who. Tournaments are important because these Silver Creek players get a chance to practice against different teams, and every time they play a different team, they get better.
Silver Creek played Niwot HS, Lutheran HS, Weld Central HS, and Greeley West HS. Two out of the four teams were C teams, and the other two were D teams. Silver Creek won the first set of the first three games they played, which was against Niwot, Lutheran, and Weld Central. The last game of the day was against Greeley West, where they lost both sets.
Silver Creek went home happy, "We put up a fight," Leelianna Gurrola, a Silver Creek volleyball student, stated in a recent interview.
This tournament was the first time winning a set for the thirteen freshman and sophomore girls. D team coach Courtney Byle says, "The team did really well being that it was their first time at an all day tournament. They all came out strong and worked very hard every set and game they played. It is not easy playing three games in a row."
One thing that is important in sports is energy. The D team coach explains how it is such a crucial part to support each other, "Supporting each other helps the energy on the court by lifting up their teammates when it gets hard, when they lose a point, when they feel they messed up beyond fixing it keeps everyone engaged and they all have more fun when their energy is up. They are a different team when they keep their energy up."
Energy affects a lot in sports. Chloe Oliver, a student and volleyball player at Silver Creek, says, "bringing energy up encourages the whole team, and bringing the energy down or negative energy discourages the whole team."
Coming home to Silver Creek with no wins is a hard thing for any of our sports teams, but having fun is so much more important. D team coach Byle says,
"Winning is great, but having fun and knowing you have done everything you can is so much better. You can win every game, but if you are not having fun, what is the point of playing or winning. So have as much fun as you can for as long as you can!" She continues, "All day tournaments are hard, they are long, they are draining. Players play multiple games in one day when they normally play one… Each and every one of my players played till the last point. As a coach I was so proud of all of them. Go Raptors!"
The girls on the team are "like family." Leelianna Gurrola says, "No matter how many wins or losses we get, we are a community that is here to have fun."
Having a big group of teenage girls has its ups and downs, but "Silver Creek volleyball supports each other no matter what," Leelianna Gurrola states.
No wins, but still a successful tournament. The D team is proud of how far they have come.
View Comments (2)
About the Contributor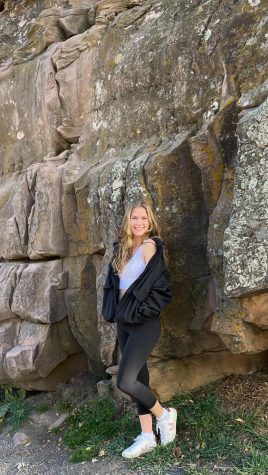 Eden Rutledge, Staff Writer
Eden Rutledge is a 9th grader at Silver Creek High School. She has always been interested in journalism, and learning more about it. She looks forward...