Art Club: Silver Creek's Outlet for Artists
Someone who does art picks up a pencil or a paintbrush as a hobby, but an artist is someone who lives their life as if everything they do is art. An artist incorporates art into every aspect of their lives and their being, and Art Club on Wednesdays after school at Silver Creek High School is a place for artists.
The club's faculty member Kate Giese expresses that she created the club ten to fifteen years ago because there was no outlet for visual arts outside of school and she wanted to create that opportunity for students throughout all of high school— freshmen to seniors. When it comes to facilitating an art club versus teaching an art class during the school day, Giese says there is no difference. "You set up the premise, you offer the premise, and then you allow students to answer it however they feel," she explains.
While there is virtually no difference between hosting the club and teaching a class for Kate Giese, the structure of Art Club from the perspective of students is much more freeform and student-led. There is always time to work on personal projects, but there are also community projects the students work together on. Using art as a way to serve the community and bring people together is a staple of why students and teachers love being in Art Club.
Some students are devoted to creating visual art during the after school club, according to Evan Clanin, but there are also a handful of students who go to the club to socialize and eat snacks, like Mia Frazier. When asked why she keeps coming back to Art Club, Frazier responds, "Honestly— the snacks." She chuckles and continues more seriously, "The atmosphere, the environment is very nice . . . the volunteers there are very sweet."
Students in the club love the environment that everyone creates by being there. Evan Clanin and Mia Frazier love how accepting and friendly everyone is," [There are] all sorts of people from all different backgrounds. They all do all sorts of different art forms," Clanin explains. It's not just the students that feel this way. Kate Giese is well aware of the fact that the community and location of Art Club have a unique, special energy that makes people want to come back. "The idea is that it's a student led environment and a student led club," she explains, "The art room is supposed to feel different than other classrooms . . . hopefully when people walk into an art classroom they go . . . 'I can be myself here.'"
Art club is an amazing place to be. There is complete creative freedom, community projects to stay in the loop with other students, accepting and supportive people to make friends with, and even great snacks. Amazingly enough, there are even opportunities to get volunteer hours, varsity letters at graduation, and students can join the National Art Honor Society by being in the club.
Art club is an amazing place to be for any student who's considering it. Even if you're not devoted to spending time on visual art, anyone will be welcomed with open arms in Art Club here at Silver Creek High School.
Leave a Comment
About the Contributor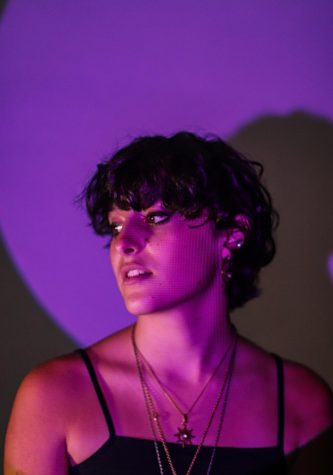 Micaela McFarland, Staff Writer
Micaela McFarland is a senior at Silver Creek High School and she's taking journalism because writing articles for past English classes has been a lot...