It Ends With Us: Colleen Hoover's Take on Relationship Abuse
Trigger Warning: This review deals with topics of relationship abuse, domestic violence, and sexual assault.
National Domestic Abuse Hotline (800) 799-SAFE (7233)
It Ends With Us by Colleen Hoover is a heartfelt story surrounding relationship abuse and cycles. When the main character and narrator Lily Bloom finds herself on the rooftop of her apartment complex, following her Dad's memorial, she meets neurosurgeon Ryle Kincaid. Her life leading up to this point had been completely independent;she got herself out of her small town in Maine, went to college, and moved to Boston. Now, this one person may change everything around.
Upon opening the floral shop of her dreams in Boston, Lily meets an incredible group of friends. While wandering one day, Allysa saw the empty shop and walked inside, asking Lily if she was hiring. She hadn't thought about it yet, but it seemed it was just meant to be. Allysa, her husband Marshall, and her brother Ryle became familiar faces and friends to Lily almost immediately.
It Ends With Us is Colleen Hoover's most read and purchased novel. Hoover says, "this story was inspired by events in my life, but mostly from events in my mother's life. It was very important to me, for that reason, to do her story justice." Lily Bloom does any domestic abuse victim justice in the telling of her story. Although very detailed and graphic at times, it does not romanticize what life is like seeing or experiencing abuse. This piece teaches readers that it is often harder said than done to leave an abusive relationship because it may not be all negative moments. Abusive relationships tend to have a mix of love and toxicity which makes them that much more complex.
Lily's story shifts back and forth between her childhood and memories at home to her present life in Boston. Many things have changed since she was a middle and high schooler, to the business owner she is now, but in the weird way of the world, many things seem to be the same.
Lily grew up watching Jenny, her mom get abused by her father, Andrew. She grew up wondering why anyone would ever stay when their marriage was only causing them pain. Her next door-neighbor, Atlas, thought the same thing. He was a young high school boy experiencing abuse from his father at home, and he chose to run away. He lived in the empty house next to Lily's for many months in high school. Lily also wondered how someone could do that to their son.
At times the story was predictable but it was extremely compelling and powerful at all points. Overall, this book is more than five out of five stars and tells one of, if not the most powerful stories of all Colleen Hoovers pieces.
Leave a Comment
About the Contributor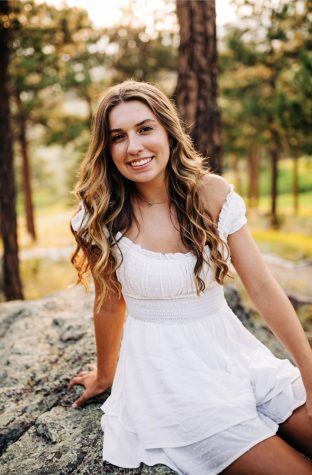 Mackenzie Larson, Staff Writer
This is Mackenzie Larson. She is a 12th grader at Silver Creek High School. Mackenzie is taking journalism because there is a chance that she will study...