Winter Wrestling is Back
Wrestling is back on the mat and in full swing for it's 2021-2022 winter season. It is finally time for the wrestlers of Colorado to turn their spotlight back on and dual. After coming back from a shortened season, this season showcases 10 dual meets per CHSAA scheduling. It also includes 10 tournament dates which are against multiple schools. At each individual dual there are fourteen male weight classifications and ten female weight classifications (if applicable). Typically one wrestler will compete against another in their defined weight category for each dual. If duals are scheduled for back to back nights, all wrestlers are given a one pound allowance during weigh in. This means that if the competing wrestler weighs one pound more or less than their expected class, they are still eligible to wrestle.
At Silver Creek High School the wrestling team is coached by head coach Christopher Blair and assistant coach Dr. Jolin Jeiger. Head coach Blair has been coaching since 2000, where he began in college. On the team despite having a few open spots on the roster, Coach Blair has nineteen competitors. This year, the team is looking to their seniors as their leaders and stars in the upcoming season.
Ben Hyman, an 11 year wrestler and senior said, "I wrestle in both the 132 and 138 pound weight classes."
In each dual Hyman has to focus on maintaining his 132 pound weight to be allowed to wrestle in either division (132lbs and 138lbs) each night. Coach Blair then has the big choice as to where he will compete.
Another senior, Rodrigo Orodonez-Enriquez who wrestles in the 170 pound weight class only, is anticipating one specific meet.
"I can't wait to wrestle Longmont because they are our main rivals and we were able to beat them last year and are looking to repeat," said Orodonez-Enriquez.
The Longmont dual is on January 13th, 2021 at 6pm at Silver Creek High School and will be one of their meets in the second half of the season. However, there is already a little bit to reflect on from their first half.
"We got a lot of tough guys, I always say we might not have the biggest numbers but we have the toughest guys in the school", said Coach Blair.
Ordonez agrees with his coach and reflects, "early this season we have been able to be successful by uniting a group of seniors and other wrestling veterans with lots of freshmen and many kids who never wrestled."
So far this season the boys have maintained a 7-3 overall record against schools such as Frederick, Riverdale Ridge, Fairview, and more.
This mix of athletes will continue competing while following COVID-19 protocol and guidelines all season long. These guidelines include wrestling with a mask on in most counties, but being able to remove it if an exemption is allowed. They do however have to wear a mask at all times as a spectator regardless of exemption status. St. Vrain Valley School District allows for medical mask exemptions, but other districts that may not, can require masks at all times in their facilities.
All in all this wrestling season is looking to be a fun one for a class that has stuck with the sport throughout their high school years and a season to be proud of for Coach Christopher Blair.
Leave a Comment
About the Contributor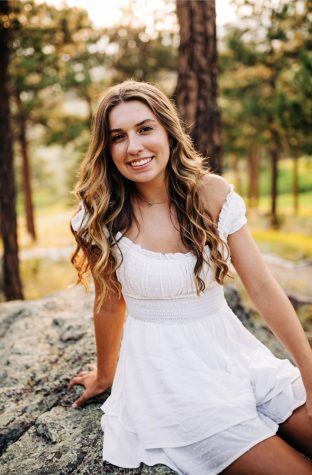 Mackenzie Larson, Staff Writer
This is Mackenzie Larson. She is a 12th grader at Silver Creek High School. Mackenzie is taking journalism because there is a chance that she will study...