Day After Tomorrow Covered by Phoebe Bridgers: A New Christmas Song for This Holiday Season
Phoebe Bridgers, a singer/songwriter from Los Angeles, has risen to fame gracefully over the past years. Since the release of her debut album Stranger in the Alps, and her sophomore album Punisher, her devastatingly mournful songs have been sung by mournful teenagers everywhere. Beginning in 2017, Bridgers has released an annual cover of a different Christmas song every year. Originally released by Tom Waits in 2004 off his album Real Gone, Phoebe Bridgers released her cover of "Day After Tomorrow" on November 30th, 2021.
From the point of view of a young man missing his hometown in Illinois, the song tells the story of a soldier. He is tired, burnt out, homesick, and losing his faith. The Punisher singer put her own classic spin on the song with mumbled piano chords and subtle finger-picked guitar behind her feathery falsetto voice—further insinuating the sorrow filling this narrative. Tom Waits' original version is undoubtedly a heartbreaker, but Bridgers hits the nail right on the head with this 2021 cover. Using orchestral strings and letting the instrumental ebb and flow, grow and recede; she gives the song all of the emotional meaning it was written to hold.
The rolling guitar parts in both Bridgers' and Waits' versions give both songs the same feeling of movement, keeping a similar synergy between both versions. Beginning in 2017, Phoebe started this tradition with a haunting version of "Have Yourself a Merry Little Christmas," followed by "Christmas Song," by McCarthy Trenching, "7 O'Clock News / Silent Night," featuring Fiona Apple and Matt Berninger, and in 2020, "If We Make It Through December," by country icon Merle Haggard. For Phoebe Bridgers fans, Christmas is a little bit brighter because of these beautifully arranged holiday covers.
Although "Day After Tomorrow" isn't necessarily a Christmas song, Bridgers' additions of the jingle of Christmas bells and samples from "Silent Night" give the song just enough Christmas magic to suffice this year's cover. Of course fans are listening to Bridgers' 2021 Rendition of "Day After Tomorrow" on repeat, but behind the scenes, all proceeds from the song are going towards The International Institute of Los Angeles-–The Local Integration & Family Empowerment Division.
"Day After Tomorrow" not only tells the somber story of a soldier questioning his faith on a trip home, it also alludes to a theme of going home for the holidays, while incorporating the religious sentiment that comes with Christmas time. Although it may seem random for Phoebe Bridgers to cover such a melancholy, slightly political song for this holiday season, when it comes to the Stranger in the Alps singer and the heavy topics she makes music about, fans couldn't imagine it any other way.
View Comments (1)
About the Contributor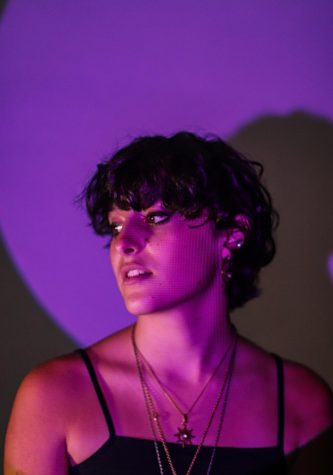 Micaela McFarland, Staff Writer
Micaela McFarland is a senior at Silver Creek High School and she's taking journalism because writing articles for past English classes has been a lot...