"drivers license" Original Version
"drivers license" Original Lyrics: Review
Byline: By Cecilia Adams
"drivers license" by Olivia Rodrigo
"drivers license original version"; the compelling lyrics of 18 year old Olivia Rodrigo surfaced a year ago in December of 2020. The original lyrics to her song "drivers license" although coming out before the published version has only recently gained fame. Throughout the past couple of weeks the original has amassed an incredible amount of attention through social media platforms such as Instagram and TikTok. Various trends have arised due to this song, and it has gained popularity very quickly among teenagers today.
"drivers license" created a massive uproar when it came out in December of 2020. A lot of rumors surfaced surrounding the song about who it might be about. It was rumored to be about Olivia's fellow star actor on "High School Musical; The Musical, the series " Joshua Bassett. At the time of the song's release, Joshua was seen out with Disney actor and musician Sabrina Carpenter. Both Sabrina Carpenter and Joshua Bassett received a copious amount of hate following the release of "drivers license." Rodrigo stans spent many months bashing Carpenter and Bassett online. It is rumored that Carpenter is the "blonde girl" from Rodrigo's song. However in the original lyrics the lyric changes from "blonde girl" to "brunette girl" which leaves people wondering if it's not Carpenter who Rodrigo was talking about.
Although not many lyrics change between the original lyrics and the published lyrics, the original has gained quite a lot of popularity for the couple of changed lyrics that were "hitting closer to home" as users on TikTok say. This as well as "I would not have left my bed in months if this version came out instead." "drivers license" is a song primarily about breakups and the feeling of missing someone and not being able to be with them. There's no doubt that breakups can be a hard thing to go through, so this song's heartfelt and deep lyrics hit the hearts of teenagers today. These teens soon called it, 'The Break Up Anthem.' When it originally came out people posted videos of them lip syncing the lyrics and writing ways they relate to the lyrics. The same thing goes for the original lyrics when it amassed fame, people began posting videos of them lip syncing and relating to the different versions of the lyrics.
The lyric that changed the most and has gained the most fame is the lyric that changed from the original "guess you didn't mean what you wrote in those songs about me" to "and I don't believe you when you say I did nothing wrong." People are saying that these lyrics hit closer to home because they can't relate to people having written songs about them but they have spent their time wondering what they did wrong, whether as a person or in a relationship. Users on the internet are saying that the published version is more professional, but the original lyrics are more from the heart, and feel more personal.
Both the original lyrics and the published version are beautiful pieces of music and art that have a lot of feeling behind them and cater to people going through a breakup or even to people who aren't. The original version is only available on YouTube; it is one minute and 37 seconds of pure, and raw talent. Rodrigo was 17 when "drivers license" came out and it takes an incredible amount of talent to write, sing, and accompany one's own song, and Rodrigo did it beautifully. Both the original version and the published version hit a place in people's heart that keeps them wanting more from Rodrigo.
Leave a Comment
About the Contributor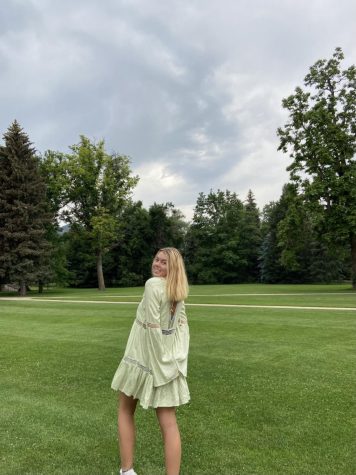 Cecilia Adams, Staff Writer
This is Cecilia Adams. She is a 12th grade student at Silver Creek. She is taking journalism to become a better writer, and to be able to write from different...