Madrigal in a Crazy Year
You walk into the main doors of Silver Creek expecting it to look like it always does, but you are taken aback by the Renaissance theme that has taken over the commons. There are men and women dressed in gowns and festive wear;,the sweet sound of the orchestra tuning their instruments—a production that includes all of the A-wing artists to create a magical show: the Madrigal.
The Madrigal has been happening at Silver Creek since 2002 and the school has been open since 2001. The Madrigal is a tradition held at the school and an event that many look forward to. The show is filled with music in different languages, renaissance songs, and winter songs as well. There is a song at the end of the Madrigal called, "Betelehemu," where alumni, who are in the audience, are welcomed up onto the stage to sing with the other performers.
Due to COVID, there will be no royal court which are the actors we have for entertainment for the audience or any dinner served. It will be more of a concert setting. Seats will be in rows and there will be no wassail or desert service by the performers. Despite the changes, Madrigal till a very fun show with festive activities and great music that these students have been working so hard to be performance ready.
Jeremy Skelton has been the Choir Director at Silver Creek for sixteen years and is very excited that the Madrigal gets to come alive again. He says, "I'm most excited about the inclusion of the new groups, and just that we get to do it again, and get everyone in costume and feeling festive, and getting the school decorated and all that good stuff." Skelton is excited to continue the tradition and get everyone in the spirit.
Micaela McFarland has been in the choir department all four years at Silver Creek, participating in multiple auditioned classes. McFarland has been learning her music since October, with the show being on the first weekend of December. McFarland says, "That it's just this huge renaissance festival that is so weird and cool, but also is so fun." McFarland will miss the old traditions but is excited she gets to have one last Madrigal as a senior.
Edward Dunne, who is a senior, has been part of the VanGuard Jazz Band for all four years of high school, and is looking forward to playing with all of his friends and for the Madrigal to make a comeback.
The band started to learn their music about two weeks ago. Dunne says "It's nice that we can actually have people in person this year for our concerts, and I'm happy that the band can be a part of it." He hopes to go out with a bang, while also helping his fellow peers to be better musicians and create music to the best of their abilities for their audience.
With their first dress rehearsal on December 1st and the show being on December 3rd and 4th, all of their hard work is going to soon be presented in a way like any other. It may not be the same as past years but the magic that the Madrigal brings will still feel the same as it always had. With more inclusion in the different music groups, Madrigal is here.
Leave a Comment
About the Contributor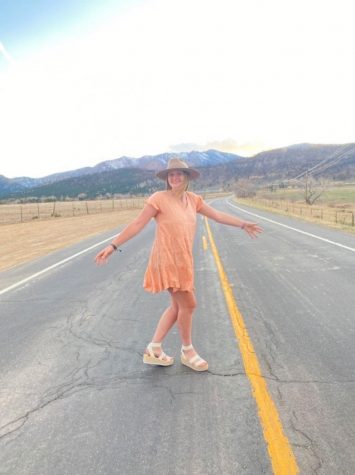 Mayson Bogrett, Staff Writer
Mayson Bogrett is a senior at Silver Creek Highschool. She loves staying active and being with her family and her dogs. She is taking journalism this year...