Silver Creek Cheer to the National Championships
The varsity cheerleaders of Silver Creek started off with a great competition season. The Raptors have bounced back from last year's season with the problems of COVID-19 and the fact that they only had one team with a mix of skills, most of the team being freshmen with no experience or just a little.
On November 6th, the cheerleaders started their competition season off strong with first place in their division and first overall, claiming the title of Grand Champions at the United Spirit Association (USA) competition hosted by Legacy High School. Along with first and Grand Champions, they also received a bid to go to the USA National Championship.
A few months ago, the Raptors took second place at the Universal Cheerleading Association (UCA) Regional Championship on November 13. As well as their bid to the USA Nationals, they also got a bid to the UCA National Championship in Orlando, Florida at Disney. The Silver Creek cheer team's most recent competition was the Colorado State Championship, at the Broadmoor World Arena in Colorado Springs on December 9th.
Last season the Raptors didn't do as well as they were hoping to at state. They claimed thirteenth place out of around 25 high school teams in the 4A/5A division. They were just three places away from being able to make finals. The head Coach Taylor Austin has been coaching Silver Creek for many years. Last year, she made the decision to compete in the 5A/4A game day decision instead of the traditional competition division.
"State last year went well, it was different then normal but I'm just glad we were able to compete," Stated Coach Austin.
The Raptors made a huge come back from last year's State Championship. This year, they had a much bigger range of competition with more teams coming back from last year. The cheerleaders took 10th in the state out of 34 Colorado high school 4A/5A game day cheer teams. They sadly didn't make it to finals by a tenth (0.1) of a point.
"I was glad that State felt more normal this year. We didn't place how I wanted but we had fun and it was good to be back!" Explained Austin.
The cheerleaders of Silver Creek are making their way to Nationals in Orlando, Florida on Thursday February 10-14, after they got a bid from the UCA Regional Competition and were able to give redemption to last season's team.
"I am so excited to be going to Nationals with the team this year. We have an amazing group of athletes and I'm excited to experience the trip with them. We hope to make Silver Creek proud." Austin expressed.
The team credits a lot of their success to their new varsity assistant coach, Shelbie Torres. She swooped in and helped this team and the head coach get to where they are, from helping them at camp to now at Nationals. Coach Shelbie has coached a couple of teams before she coached Creek. She coached an All-Star team "with girls anywhere from ages 5-10 wile I was in college. Then when I came home I coached the Frederick [High School] cheer team for a year." She coached these teams in 2017 and 2019.
While it is her first time coaching in a few years, she is absolutely loving it. Her favorite part so far is "definitely watching the girls grow. From when I first came on to now… everything has changed."
The coaches of the Silver Creek Cheer Team are definitely proud of how far their girls have come and are ecstatic about them making it to Nationals. The Raptors leave February 10 and will return on February 14.
Leave a Comment
About the Contributor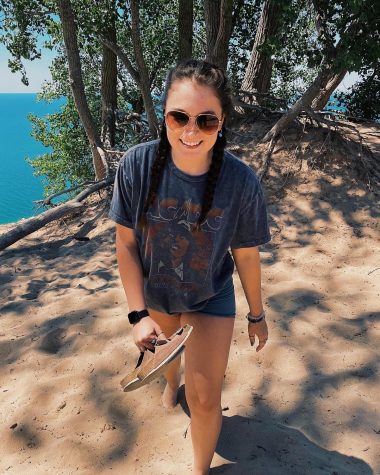 Olivia Enright, Editor in Chief
Olivia is a senior at Silver Creek High School, and this will be her third year as a member of the journalism program and her first year as the Editor...