Euphoria: HBO's Knockout Hit Back for Another Season
Euphoria
Created by Sam Levinson
Drama
2 Seasons
87% on Rotten Tomatoes
WARNING: This article contains content that could be triggering for some audiences. This series will address sexual and physical violence along with drug use and abuse alone with many other topics that are sensitive. Please read at your own risk.
In 2019 HBO–formerly known as Home Box Office– released a new groundbreaking show called Euphoria that took the world by storm. The show won lead actress, Zendaya, an Emmy at the 72nd show, which made her the youngest person to ever win best actress in a Drama. When the second season was announced back in 2021 millions of fans started counting down the days until the premiere. On January 9, 2022, 14 million people watched– across multiple platforms– the hit show, yet again, takes the main stage. But what brought in all these viewers?
The show is based on an Israeli series that's titled by the same name. But, HBO's Euphoria includes feelings and experiences it's creator Same Levinson went through as a teenager. Euphoria doesn't follow just one person, despite one of the main characters also being the narrator. It follows a group of high school juniors in the town of East Highlands, California. The show starts by telling Rue's story of her overdose and entrance into the believed sobriety. Throughout the rest of the show, viewers get to know all of the other 10 main characters— Jules Caughn (Hunter Schafer), Maddy Perez (Alexa Demie), Nate Jacobs (Jacob Elordi), Cassie Howard (Sydney Sweeney), Lexi Howard (Maude Apatow), Kat Hernandez (Barbie Ferreira), Elliot (Dominic Fike)— and their plotlines. With these characters come some of the best side characters, like the local gas station owner and Rue's friend Fezco (Angus Cloud).
The struggles of sobriety and drug addiction aren't the only serious topics the show vividly portrays. The characters struggle with other problems like physical and sexual abuse, homophobia, emotional manipulation, grooming, PTSD, and other mental disorders. This show doesn't sugar coat any of these issues to continue the theme of feeling the characters raw emotions. These realistic portrayals of such sensitive topics is what makes the show so popular among younger audiences. Critics of the show claim the show embellishes and promotes drug use or mental health problems, but that's due to the lack of personal relation. For the fans and viewers of Euphoria, most of them know this life and can relate to the emotions as well as the characters.
After the phenomenon of the first season, and coming of the second, more people are re-watching the show and noticing all the detail and metaphors embedded. With every episode comes a thicker plot, more drama, and fantastic cinematography— along with some captivating TikTok trends.
One of the latest installments of the second season, episode four, has outdone itself with subtle facial expressions adding meaning to little conversations, dialogue that encapsulates the deception of teenagers on another level, and scenes that may even make you realize the bad guys aren't who you think they are.
With a soundtrack composed by Timothy Lee McKenzie, or more commonly known as Labrinth, it has attracted listeners from past albums like Beneath Your Beautiful, Imagine and the Misfit Kid, and LSD–a collaboration with Sia and Diplo. His works in Euphoria's first and second seasons have been streamed over 200 million times on Spotify.
Teenagers all over the world have group chats talking about each week's episodes, or hour long conversations with best friends after their live viewing–along with millions of others. Or TikTok videos using #Euphoria to get a total of 35.5B viewers across all videos using the tag. These videos are filled with thousands of comments filled with viewers expressing their opinions.
The Season 2 finale aired February 27, 2022 getting 6.6 million views across all platforms. It is now known as HBO's second most watched show behind Game of Thrones. The show is rated TV-MA which is for 17 years and above.
With the finale leaving us with so many questions and despair, fan's minds are running wild.
Leave a Comment
About the Contributor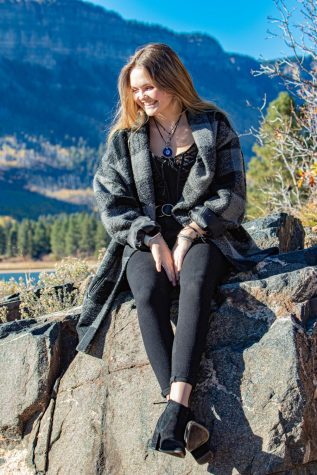 Kylie Hallisey, Editor In Chief
Kylie Hallisey is a Senior this year at Silver Creek and our Editor in Chief. She joined Journalism their sophomore year with the intent of maybe following...