Clothing Trends: How do they reflect students?
Clothes can have a big impact on how people think and feel throughout their day. In the halls of Silver Creek spotting all sorts of different styles and trends as students head to class is common.
This year, many trends originate from social media platforms such as Tik Tok and Instagram inspiring the styles of many.Some examples of current trends are Indie, Academia,Thrifty, Y2K and more. People see these outfits online and it inspires the look they want to wear and future wardrobe. When looking into the background of style choices, age, grade and gender preferences play a bigger role then you may think. Upperclassmen(juniors and seniors) typically lean towards wearing more comfortable clothing, such as sweatpants or baggy shirts. Rather than the counterpart underclassmen, who's styles reflect the wide eyed outlook of the earlier years in high school.
As people get older, their clothing choices change and grow as their personality changes.
"I 100% think that what you wear reflects on who you are as a person. A lot of the time when I go out in public I see what someone's wearing and I know that I would be friends with them", stated freshman Malloy Gahn.
Gahn describes her style as late 70s to 90s, simplistic with a good amount of flare.
"I will always dress by what I think is cool, for myself not for other people to see, that's the most important part, I want to look cool for me", states Gahn
Many stores trending right now are Pacsun, American eagle, Urban Outfitters, and etc. Thrifting is very popular right now as well,finding stylish clothes while saving money is certainly a draw to places like Goodwill, Fabulous Finds , Arc and more. Trending clothes are not the only reason people pick out certain items, your personality has a lot to do with the things you pick out to wear.
"When I go to a store my eyes are drawn to certain things, what I automatically like", stated Lili Wheeler a freshman. "It's really fun to pick out an outfit and it's kinda like designing something and being creative", explained Wheeler!
Teachers also observe the changes in people's mood based on how they are dressed. Most people's clothing not only shows the type of person they are but also the mood they're in or how they feel.
"I actually can tell about a students personality based on what they wear for the day", stated English teacher Diana Dame. Dame also explained how fashion trends have changed from when she was a high schooler, the things that are popular now weren't as accepted in the past.
As trends and styles change, people express themselves through their clothing.The pandemic put a block on being able to express themselves in public through clothing. Now that we are all back, students can begin to get creative with their styles again!
Leave a Comment
About the Contributor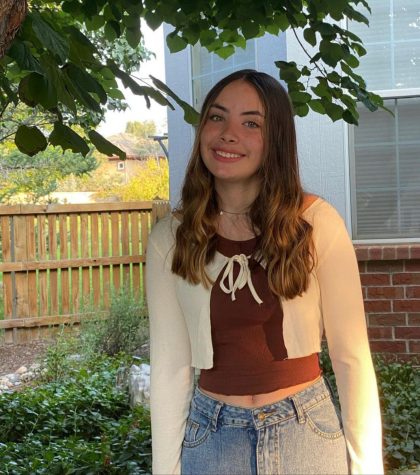 Josie Forsberg, Staff Writer
Josie Forsberg is in the 9th grade and is taking journalism for the first time. She loves to read and write and has always been very interested in journalism...