Choice Books: Silver Creek Reads On
Many students love to read books, but most of their reading happens over the summer when they have time to relax. However, some English teachers use choice book reading in their classes to get students reading during the school year.
Choice books can be called many different things, including Silent Sustained Reading (SSR) or Independent Novels. Choice books are books chosen by students to read that can be accompanied by a short project to analyze the book.
The benefits of choice books are numerous, including getting students more engaged with their reading and helping them better absorb and understand vocabulary. However, reading choice books is not only beneficial for students, they enjoy reading the books as well!
Silver Creek English teacher, Jason Lathrop, is a strong believer in the power of choice books. While he acknowledges the importance of doing literary analysis, he believes a balance is necessary between doing in-depth analysis and reading for pleasure.
"We do literary analysis all the time…if that's the only context you know books, you start to probably resent books," says Lathrop. "If that's all you do, books become work, books become school, and [books] are no longer laying in bed in your comfy clothes having a parent read to you."
Bringing back the magic of reading for fun can create a real passion for reading, especially when busy students have trouble finding time to read in their free time. Lathrop inspires this passion with his choice book assignments in the hope that students come to school books with more energy and enthusiasm.
The goal of reading choice books is to create a passion for learning and reading. Lathrop even considers it a failure of teachers if students have no desire to read outside of school.
"The missions you want to accomplish in school can't be more important than creating lifelong learners," says Lathrop.
Silver Creek Senior, Sarah Dodge, is taking AP Literature with Mr. Lathrop this year and says, "Everyone can benefit from reading any book, no matter what genre."
Dodge's favorite choice book she's read is Brave New World by Aldous Huxley because she likes "to see the parallels to today's society and the warnings it gives against consumerism."
Not only are students reading, but they are able to find themes and relate them to the real world while reading. Another Senior in Mr. Lathrop's AP Literature class, Francois Labadie, also has found real world connections in his choice reading book: A Lesson Before Dying by Ernest J. Gaines. Labadie enjoys reading this book, especially because the racism described in the book is relevant to current events.
Labadie says, "The story is interesting; it's about a guy who is going to be sentenced to death for a crime he didn't commit."
All choice books are different and they work a little differently from class to class. In AP Literature, students must read a book from an AP list of books that are likely to be featured on the test. This allows students to have a connection to certain books while they answer the open question on the AP test.
This helps students "get more bang for their buck," as AP Literature teacher, Mr. Lathrop, puts it.
Labadie adds, "I like it because you put your own choice into what book you're going to read so it gives you a reason to read it."
Being able to choose a book with an interesting topic makes the open question easier to answer and comes with all of the benefits of reading choice books in class.
AP Literature isn't the only class that Mr. Lathrop uses choice books in, though. His 9th grade English Honors class reads half of their yearly books as choice books.
The freshman English classes love reading choice books just as much as the AP students do.
"When I'm told to read something, I'm less likely to want to read it. But when I can pick the book, I do like to read it," says English Honors 9 student, Katelyn Johnston.
Her favorite choice book she has read is Long Way Down by Jason Reynolds because "it was a very interesting topic…because it was about…the story and background of minority communities."
Johnston also thinks it is easier for students to enjoy reading for school when they have some choice in the book. Her and her peers greatly enjoy the choice book assignments in Mr. Lathrop's class.
It's not just students that love reading choice books, though. The teachers love having their students read in class. The CP English 11 classes have started reading choice books again this year after taking a break from choice reading during the COVID-19 pandemic.
Silver Creek CP English 11 teacher, Joylynn Boardman, suggests that anyone struggling with reading should "find a show or some piece of media [students] are interested in and if it's based off of a book, [they] can start there."
Boardman attributes a lot of her success in college to being able to read well. She says she developed this ability by reading constantly throughout high school, and encourages her students to read for this reason. Taking this into consideration, Boardman simply encourages students to read during class time and doesn't have any assignments associated with her choice books.
While encouraging her students to read, Boardman also reads her own books. Her favorite choice book she has read this year is Crossroads by Jonathan Franzen. Boardman even has one of her cabinets adorned with the covers of all the choice books she has read since October of this school year.
Preparing students for what comes beyond high school is a very important goal for the teachers at Silver Creek. Choice books, since they teach students how to read better, and perhaps more effectively, than assigned school books might, become an important step of this goal.
"In fact, [teaching students how to read effectively] may be the most important element of a high school student getting ready for the next step in life," says Silver Creek English 10 and AP Research teacher Sarah Heilbronner.
Heilbronner assigns semester-long choice books for students to read outside of class. Her assignment at the end of the year is "a souped-up book report" and is presented in small groups to encourage students to "have conversations about books."
Heilbronner also believes that "indulging in what you like to read…whatever it might be, makes you a better person."
Learning about themes of humanity and getting reading practice are the two most important aspects of choice books in Heilbronner's mind. In fact, Heilbronner compares reading to a sport: you need practice to enjoy and get better at it.
Some of her favorite books that have come up often in her choice book assignments are Catch-22 by Joseph Heller and All the Light We Cannot See by Anthony Doerr. Heilbronner believes the attraction to war books comes because they resonate with students. However, these two books in particular have specific interpretations that make them more interesting.
"I think Catch-22 [comes up a lot] because it's about World War II," says Heilbronner. "It's snarky and it's irreverent and it questions authority, and doesn't elevate conflict to some sort of glorified level; it brings it to the level of humanity. While All The Light We Cannot See helps us understand that we are all people, no matter what side of the conflict"
Whether it's war books, books about minorities, or simply books about humanity, choice books open up new possibilities for students to enjoy and engage with reading.
Leave a Comment
About the Contributor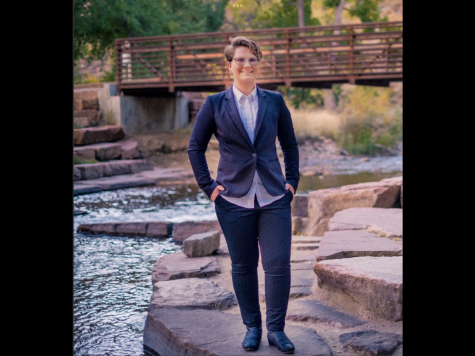 Shenandoah Waugh, Staff Writer
Shenandoah Waugh is a senior at Silver Creek High School and a first year Journalism student. They joined the journalism class because of their interest...