Inheritance Cycle Review: A Worthwhile Endeavor
Inheritance Cycle Review: A Worthwhile Endeavor
This book series is a marathon; it's long, but well worth it in the end.
Written by: Christopher Paolini
Published by: Knopf
Date: 2002-2011
The Inheritance Cycle book series, written by Christopher Paolini, follows the story of Eragon, as he learns how to be a Dragon Rider, what humans inherit from their families, and what power does to humans. After finding a stone in the forest, Eragon suddenly learns he found a dragon egg, and is immediately thrust into a strange new world of magic and Dragon Riders. After leaving his hometown, he learns that he is the last free dragon rider, and that he must kill the mad rider and tyrant Galbatorix. Over the course of the journey, Eragon will join the Varden rebellion, meet capable allies among strange races, and learn to accept his destiny. The journey, while long, will give the reader a story that will captivate.
From an early age, Paolini loved reading and writing, which would eventually cultivate his love of storytelling. Paolini specifically loved fantasy as a genre. It was entirely natural for Paolini to one day write a fantasy epic similar to ones he grew up reading.
The Inheritance Cycle is a massive, complex, beast of a book series, not just in terms of sheer volume. Paolini spends an incredible amount of time building up a deep and complex world. This makes the text difficult to get through at times, but the reward is a fulfilling world and a rich and captivating story. Reading the series is a marathon, according to Paolini. Those with the endurance to read the series will have their time and effort rewarded.
All four books in the series are to become a New York Times number one bestseller. Additionally, reviews all across the internet are overwhelmingly positive, with the series as a whole earning a 4.8 stars out of five on Google.
The Inheritance Cycle is an incredibly rewarding book to read. It is long, but respectful of the reader's time, and rewards their effort with a satisfying, bitter-sweet conclusion.
Leave a Comment
About the Contributor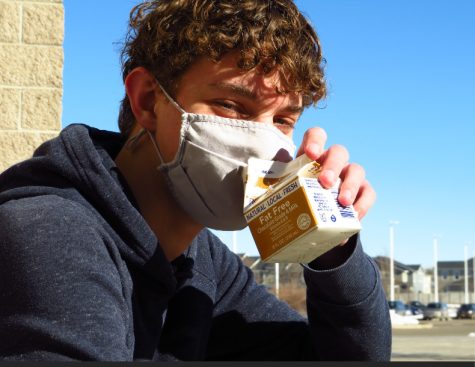 Daniel Mandeville, Staff Writer
Daniel Mandeville is a junior taking journalism to try out different types of writing and to hopefully improve as a writer. He has never taken journalism...