'Our Flag Means Death' Review: A Refreshing Queer Perspective
This romantic comedy veers from normal representations with diverse cast members sharing a life of adventure on the seas. Limited perspectives are further explored in this riveting, dramatic, and ultimately beautiful comedic series.
Seasons: 1 Episodes: 10 Executive Producer: Taika Waititi Writer/Showrunner: David Jenkins Genre: Romantic Comedy Released: 2022
Our Flag Means Death is a historical comedy that follows the intertwined lives of the Gentleman Pirate, Stede Bonnet (played by Rhys Darby), and the infamous Captain Blackbeard (played by Taika Waititi). Stede Bonnet is a hilariously incapable pirate who leaves his comfortable life as a nobleman to pursue a more adventurous lifestyle. However, he quickly makes many enemies as he and his crew find themselves in increasingly trying situations. The show does have its tender moments, though, as the lives of the crew and its captains, Stede and Blackbeard, are explored throughout the first season.
Showrunner and writer David Jenkins (other works include Post Office and People of Earth) has previously worked closely with Executive Producer Taika Waititi (other works include What We do in the Shadows, Jojo Rabbit, and Thor: Ragnarok) who also played the lead role of Blackbeard in the series. According to Entertainment Weekly, the two wanted to create a show that follows relatable characters that are given a softness not typically seen in pirate adaptations. The story is a romantic comedy and always comes back to some humor after intense emotional scenes.
Through the hilarity and sometimes unexpected graphic violence, the overall theme of the show is finding a place of loving and understanding in a world that is aggressive towards people's differences (sometimes literally). While the show does follow two pirates, known outcasts of society, Jenkins elaborates on the pirate metaphor by showing a variety of differences among the crew and how they find acceptance on the ship.
One person that truly finds their place on the ship is confirmed non-binary character, Jim Jimenez (played by Vico Ortiz). While there is an episode where the crew asks many prying questions of Jim and their identity, for the majority of the show, Jim is known as 'just Jim' and many characters refer to them using they/them pronouns. The story takes place in the 1700's, a time when non-binary people were not very well accepted into society. However, Jim is able to find a place where people accept them and their identity on the ship.
Jim is especially accepted and supported by their romantic partner, Oluwande Boodhari (played by Samson Kayo). Oluwande is Black and faces a few comments about his race from the perceived enemies of the show, the upper class and the English navy. However, these comments are portrayed in a way that feels uncomfortable among the crew members, showing how the acceptance of anyone is more important than race. While the issue isn't explicitly stated in the show, the romantic relationship between Jim and Oluwande is somewhat rare, especially when it comes to queer representation in the media.
The queer representation is fantastically done in Our Flag Means Death. Jim and Oluwande aren't where the queer romantic relationships stop, as the characters Lucius Spriggs (played by Nathan Foad) and Black Pete (played by Matthew Maher) also enter into a romantic relationship on board Bonnet's ship. Lucius and Black Pete's relationship is anything but traditional in terms of queer representation in the media. Most gay characters are portrayed as attractive, young, while males. However, Lucius and Pete, while both white, stray from the traditional stereotypes of gay men by embracing their flaws. Instead of becoming the undesirable outcasts, their relationship is never shied away from on the screen.
Pete and Lucius may even be in a polyamorous relationship – a relationship that involves more than two people. Many fans have speculated about the open nature of their relationship after Lucius openly sketches other men naked (similar to *that* scene in the Titanic). However, despite the status of their relationship, they do not bow to insults about their mutual attraction. One character, Izzy Hands (played by Con O'Neill), makes several comments to Lucius about his relationship and even taunts him and Black Pete. However, these comments are made tense and awkward to the audience, showing how homophobia will not be tolerated on the ship.
Fans also speculate on the nature of Izzy's sexuality. While he is often compared to the only live actor in a muppets show, Izzy's harsh and abrasive attitude in a ship full of openness and love may stem from a different cause: his desire for Blackbeard. The tension and contrast shown between Izzy and the other characters could show how queer baiting (or having characters with extreme chemistry and attraction never get together officially in the media) is negatively affecting the queer community.
The relationship between Blackbeard and Stede is also an example of breaking the habit of queer baiting so often seen in the media. While viewers expect Stede and Ed to follow the typical pattern of the queer bait story the lingering touches, longing looks, and open dialogue had viewers worried this would be another story written with romance beats, but missing the essential scene to make it a romance, says David Jenkins about writing the story for these characters. However, Jenkins and Waititi were determined to create a story that no one had seen before and they were brave enough to add that one scene.
Through the diversity seen in the romantic relationships, the loving understanding that is found on Bonnet's ship, and the breaking of a queer baiting narrative, Our Flag Means Death is more than just a romantic comedy. It's a refreshing queer perspective that shows how everyone has a place in the world, as long as they have a supportive crew.
Leave a Comment
About the Contributor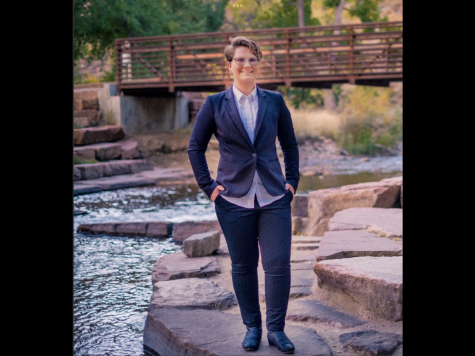 Shenandoah Waugh, Staff Writer
Shenandoah Waugh is a senior at Silver Creek High School and a first year Journalism student. They joined the journalism class because of their interest...