Extremely Wicked, Shockingly Evil and Vile- Ted Bundy film
Extremely Wicked, Shockingly Evil and Vile | Directed by Joe Berlinger | 1h 50m | Rated R | Crime/drama
The 2019 movie Extremely Wicked, Shockingly Evil and Vile, directed by Joe Berlinger, is an overview about the life of serial killer Ted Bundy. It is an American biographical crime drama film based on true events.
Extremely Wicked, Shockingly Evil and Vile, a true film about America's most notorious (to this day) serial killer. The movie was filmed across the Cincinnati area and available on Netflix. Ted Bundy (Zac Efron) falls in love with Single mother Liz Kendall (Lily Collins.) Kendall, refuses to believe he is guilty of multiple kidnappings and detestable crimes against women he is accused of. The entirety of the film is in his girlfriends', Liz Collins' perspective. This movie walks through the life and motive behind Bundy's offenses, inclusive of his love story with Kendall. The film shows Bundy's court cases and and the drawn-out murder trial, with details of his crimes, along with his escapes and unlawful actions. Their life together starts cheery until Bundy gets arrested for kidnap which escalates to much more serious charges.
Directed by Joe Berlinger with a screenplay from Michael Werwie, the film is based on Bundy's former girlfriend Elizabeth Kendall's memoir, called The Phantom Prince: My Life with Ted Bundy. The cinematographer is Brandon Trost, who studied cinematography at The Los Angeles Film School. His career took a turn for the best after winning the Best Cinematography award at the Newport Beach Film Festival for the film He Was a Quiet Man. He has collaborated with Seth Rogen on several other films, including The Interview, Neighbors and Neighbors 2, Sorority Rising, The Night Before and This Is the End. Extremely Wicked, Shockingly Evil and Vile is his most recent project, and has won five awards and been a nominee for five others.
The movie found its title from the judge's statement when sentencing Bundy in 1979 for the murders of several young women. Berlinger believed it would add significance and a parallel to the real Ted Bundy case. He thought this film would signify the repulsive cases and crimes of Bundy and show the process of his life.
The film showed all aspects of Bundy's life, outside of his faults, which makes the movie appealing and thrilling. It shows his relationship with Kendall and her point of view after discovering his misdemeanors. Not only with her, but the child of Kendall's he raised and grew to love. The acts of Bundy and his kidnappings are shown and the mindfulness behind them is revealed. It shows him and how he keeps up with two separate lives, trying to secrete his vile acts. Knowing this makes the film seem more relatable, in the aspect of him having a family. Not until the end does Kendall see the murderous activity that Bundy really has been carrying out over so many long years, the activity that must have been keeping him out of the house so much.
Some share that too much of the movie revolves around Bundy's relationship and love life, while really it reveals how he is extremely shrewd while hiding his biggest secret. It also makes it more softhearted and emotional. Bundy is also studying to become a lawyer, outside of both love and crimes.
Extremely Wicked, Shockingly Evil and Vile is a riveting story, based on the true events of a well known serial killer, walking us through his experiences. His love life is expressed and the film shows how he upkeeps with that and his culpability. The film is ominous and intriguing and slowly leads into the deep meaning and monstrosity of Ted Bundy.
Leave a Comment
About the Contributor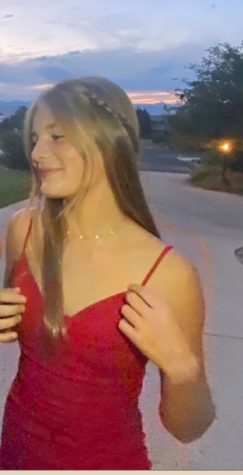 Ainsley Samatas, Staff Writer
Ainsley Samatas is in 9th grade at Silver Creek. She has never taken Journalism before. She loves to write and has always loved it, so she was looking...