Starbucks Refreshers Review: A Blissful Tasty Drink
Starbucks' Refreshers | Starbucks' stores | Prices vary | Fruity Beverage | Introduced in 2012
Out of the variety of items on the Starbucks menu, their refreshers are the perfect, light, and enjoyable thing to order. These hand-shaken, fruity drinks are perfect for summertime and for all ages to enjoy.
With the eight refresher options on the Starbucks menu, there will be no trouble choosing. The flavors consist of the Star Drink, Kiwi Starfruit, Kiwi Star Fruit Lemonade, Dragon Drink, Mango Dragon Fruit, Mango Dragonfruit Lemonade, Strawberry Açaí Lemonade, and the Pink Drink. These iced drinks are hand-shaken, made with real fruit juice, green coffee extract and pieces of freeze-dried fruit. Flavors, syrups, and any inclusions can be added for the customers' liking, to perfectly satisfy them.
Refreshers were first released to the menu in 2012, with many different attempts of flavors, and the beverages have been one of Starbucks most popular summertime drinks ever since. The first refreshers released were the Very Berry Hibiscus and Cool Lime, and were discontinued after failing to attract customers. Another refresher that didn't make the cut is the Valencia Orange refresher. Starbucks removes and adds items frequently; therefore, some refreshers have been temporarily removed from the menu. Despite this fact, customers can rely on these successful eight flavors above to always make a return to the menu.
The prices for refreshers vary, depending on flavor and size. It also differs if you include extra flavorings, add-ins, etc. A grande (medium) is typically around $4.49. Starbucks has been targeted before about pricing drinks too high. It is said to be expensive because the company can charge high prices for its products due to customer loyalty, convenience, and quality. Expenses like rent and operating costs play a big role in the high pricing. The drinks being served are handcrafted, made right in front of you. The refreshers especially hold quality ingredients and real fruit, reasoning the price of these flavorsome drinks.
Starbucks released a new line of fruity drinks in 2020 with 4 new Refreshers. Starbucks says they want to boost spirits amid the pandemic with some new bright-colored beverages. These new drinks are full of vitality, so that kids, adults, and anyone in between can enjoy these new additions. These flamboyant drinks attract kids, and are most of all perfect to keep cool during summer. Not only do they look good, but more importantly taste even better.
The refreshers are ideal for non-coffee drinkers looking to kick-start their day. Most of these drinks include a slight amount of caffeine, the perfect amount to wake you up. A grande, the medium, has 45 mg of caffeine. So people looking for a bright, appetizing, and energizing drink, these refreshers are what to order.
The Starbucks refreshers are the perfect solution for non-coffee drinkers looking for that boost of subtle energy and a thirst-quenching, quality drink. The vivid drinks are perfect for children and for everybody to enjoy throughout the summer. These drinks have always been best sellers for a reason.
Leave a Comment
About the Contributor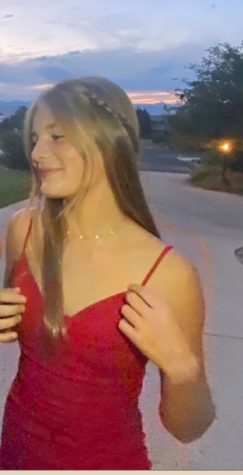 Ainsley Samatas, Staff Writer
Ainsley Samatas is in 9th grade at Silver Creek. She has never taken Journalism before. She loves to write and has always loved it, so she was looking...