JV Softball Swings into Super Season
When looking at the statistics for the fall season, one of the stats might stick out, JV softball is sitting pretty at 14-3. They have an important lesson to teach other teams- the importance of teamwork, acceptance and a positive attitude.
The JV softball team has a great winning record of 14-3, setting a record for the school of most wins in a season at Silver Creek High School. According to the players and coaches, it is due to their positive attitude and their ability to grow from mistakes instead of dwelling on them.
"Up on JV we are constantly picking each other up," sophomore player Paige Numedahl says.
Numedahl feels that the team's energy is especially exciting to be around because they spend time together doing things like themed practices, where they dress up like frat boys or their head coach, and kickball where they can all come together and get to know each other better. The JV softball team even started their own tradition this year, a point based system where every time you make a mistake you get a point and the person with the least points wins that game.
Kaeyln Vargo, an assistant coach, explains that making it fun allowed them to be more open and trusting with their mistakes.
"I don't think they are trying to one-up each other, they genuinely want each other to do well" Vargo commented.
Vargo explains that the JV team has a supportive and uplifting atmosphere that encourages making mistakes and learning from them to better the whole team. This has led to an improvement in skill because they aren't afraid to mess up which means they are open to developing their skills. It has also led to more cheering because they recognize everyone makes mistakes and what it feels like to get in your head which isn't helpful to the team atmosphere or the game.
"When I am having a rough day, I know that when I go down there[the softball field] they are going to have a good attitude." Vargo said when talking about how the team can positively affect everyone who is involved.
Vargo believes that their love of the game is what inspires them to show up to practice and always get better.
"Putting in more effort is definitely something we could work on, sometimes we rely on those who really want to be here." Kaitlyn Vandenbos, a freshman on the team, remarks, "but that is what makes us a good team, we rely on others, and that feeling of wanting to be on the team grew throughout the season."
Vandenbos observes that the team could be better and that there is always stuff to work on but what sets them apart is that they are willing to work on their mistakes.
The JV softball team is in a unique position where they are in a less stressful environment because they don't need to worry about qualifying for state or conference tournaments. This turned out to be just the right environment for making friends and connecting with a team. This led them to being able to trust each other and lift others up. The JV teams lesson isn't just about cheering for others but rather to create a environment where players can trust each other.
Leave a Comment
About the Contributor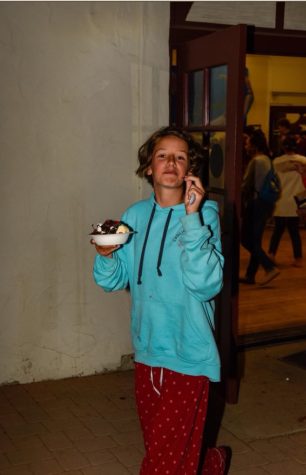 Nola Abraham, Staff Writer
Nola is in 9th grade. This is her first time taking journalism. She wanted to join because she wants to learn more about journalism as an industry and...