First Post Pandemic School year
The COVID-19 pandemic has brought many hardships on people. Being cooped up, online learning, and staying motivated are all aspects that many students and teachers at Silver Creek High School have struggled with in the past couple of years. The 2022-2023 year being fully in person has brought so many positive aspects of school to light that many didn't even take into account before the pandemic began.
Students' grades are better because of being in person, they are more spirited about school by participating in spirit week, and there is much more to look forward to this school year.
Hands-on learning is one of the many aspects students were missing whilst being online.
According to Ashley Runyon, science teacher at SCHS, "… it's easier to find interest in something when you're doing hands-on learning in the classroom."
Hands-on learning was taken for granted. Recently, the students in AP biology class have done a dissection of a cat and many of them found this to be an eye-opening lab. Hands-on learning includes many things like using physical shapes in algebra, or testing McDonald's food chemicals in biology. Hands-on has been a great way to kick this first half of the semester off!
Students' grades have also improved since being in person. Runyon stated that she has fewer students failing this first semester than she did when students were online last year. Staring at an iPad all day long was a struggle for many because it required a lot of self discipline to be able to stay on top of the school load.
Now this school year, more in-person tutoring is being offered which has also had a positive effect on students' grades. Students are more engaged in school and able to be involved with teachers easier.
Another reason students have been looking forward to school is the fall events that kick the school year off. These include homecoming, themed sports games, and the annual homecoming parade.
The spirit week that led up to all of these homecoming week events had an abundance of participation from the school's staff and students. The school parade was also not just fun for students at Silver Creek, but also for the middle school and elementary schools that got to see all the fun floats while being showered with candy.
Senior year Student Body President Katie Larson said she's looking forward to "…[sports games] and being able to have a pep-rally for the first time in a couple of years."
The pep rally that led up to homecoming was very fun especially because of the senior football players that joined in cheering with varsity cheerleaders. Silver Creeks football team also played super hard in the homecoming game which had a great student turnout. School events like these are some of the most memorable parts of high school for people. It's important to not take them for granted.
This school year has much to look forward to because of all of the sports games, school events, and hands-on activities!
Leave a Comment
About the Contributor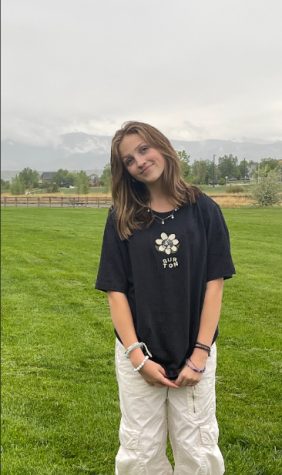 Amelia Masson, Writer
Amelia is a 9th grader at Silver Creek High School who's excited to take journalism for the first time. She has always loved writing and wants to expand...