Midnights Review: TS10 gets a 10 Across the Board
Taylor Swift is back dominating the pop genre with a similar feel to her "Lover" or "Reputation" albums but with a unique new experimental sound.
Midnights Taylor Swift Pop Explicit 44min
Taylor Swift's new album is full of emotional turmoil as well as what keeps her up at night. With themes of falling in love, the fear of getting hurt, to self loathing and even plotting revenge. "Midnights" is by far her most lyrically diverse album. The concept (what keeps you up at night) is a feeling everyone can relate to seeing as everyone has nights without it feeling unpersonal to Taylor. But just because the concept might be dark doesn't mean Swift fails to deliver her iconic singles seemingly made to scream with your friends. As diverse as this album is, there is something for everyone.
This is Taylor Swift's first directly autobiographical album in a while. This led to a more vulnerable approach to the album that paid off. It became the best selling album of the year in only one day. Swift also opened up in her interview on the Graham Norton Show that since this album is through the eras, her re-recordings felt like doing homework to prepare for this album and all of what she was feeling at the time of writing it.
Since this is a concept album (an album with songs based off a concept, in this case what keeps you up at night), it has has a incredible range from "Sweet Nothings" (by Taylor Swift and Willam Bowery), with a beautiful love song Taylor is known for, to "Bejeweled" (by Taylor Swift and Jack Antonoff) one of Taylor's songs destine to be a new "Shake it off". It is known that Taylor Swift likes to change her sound and even genre, but this new album has a experimental sound that is distinctly different from her other pop albums. Taylor puts it best in her CD booklet "This is a collection of music written in the middle of the night, a journey through terrors and sweet dreams."
"Midnights" is about more than what keeps people up at night, it is about how what keeps us up at night affects us during the day. Taylor Swift delivers on her promise to keep her music both playful without losing her purposeful lyrics that drove fans to her in the first place. As long as Taylor keeps putting out albums as good as this, the music industry won't move on from her quite yet.
Leave a Comment
About the Contributor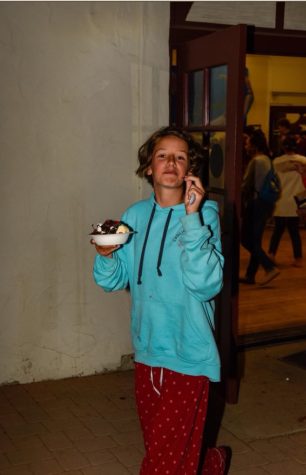 Nola Abraham, Staff Writer
Nola is in 9th grade. This is her first time taking journalism. She wanted to join because she wants to learn more about journalism as an industry and...