Silver Creek Cheer Team Goes to State!
The Silver Creek Cheer team is taking on the exciting but challenging State competition. With two bids to Nationals they are feeling confident that State will be a breeze.
Getting a "bid" to both USA and UCA nationals is like getting the Golden ticket. Bids allow teams to attend the National Competition. Not every school gets a bid which makes Silver Creek Cheer one of a kind. Silver Creek Cheer is assured that the Colorado State competition will be a success.
The Colorado State Competition is a competition that every high school cheer team in Colorado is allowed to attend. Each division goes up against roughly 45 schools. Silver Creek Cheer is in the 4A/5A Game Day Division. This year marks Silver Creek Cheers third year competing in this division. Getting two bids to nationals is setting up Silver Creek Cheer for success in the Colorado State Competition.
With several morning practices and competing at different competitions around Colorado, Silver Creek Cheer is not slowing down. Silver Creek Cheer has attended a showcase hosted by Empire Athletics, the United Spirit Association (USA) Classic competition hosted by Legacy High School, the Universal Cheerleaders Association (UCA) regional competition hosted by Varsity, and the 4A/5A League competition hosted by Greeley West High School.
After placing well at those competitions, the second year Varsity letter and Junior at Silver Creek, Saxon Pardee, is getting super excited to crush her third state competition.
"We've added a lot of sign work, and have improved our motions to appear tighter which makes me feel like we will place high at State," Pardee states.
Motion tightness is extremely important because motions such as high V's, Low V's, T's etc. are scored in their own section of the score sheet. Making team motions tight and strong will make your score on the score sheet higher. Sign work improves crowd effectiveness which can make or break the placing teams get. Crowd effectiveness is a score based on the amount of people in the crowd cheering alongside the team. Improving both of these aspects can change a team's score for the better.
Silver Creek Cheer will be performing a Game Day routine this year, which is a routine based on what you would see at a High School Football or Basketball game. Skills you can expect in Silver Creek Cheer's Game Day routine are extensions, preps, shoulder sits and stands, as well as lots of sign work and a lot of flag work which is different from last year!
The team as a whole is doing great. There are a lot of new members this year which may be difficult considering last year's team was extremely successful but so far there seems to be no extreme issues. Second year Varsity letter and Junior at Silver Creek Nayah Murphy is enjoying the season.
"The team from last year to this year is different but definitely still really fun and successful," Murphy explains.
All the members are having lots of fun and can't wait to compete at state. As Silver Creek Cheer wraps up the 2022/23 season, I wish them luck on their State competition and any new events that come their way.
"Go Creek!" Silver Creek Cheer's Head Coach Taylor Austin exclaims.
Leave a Comment
About the Contributor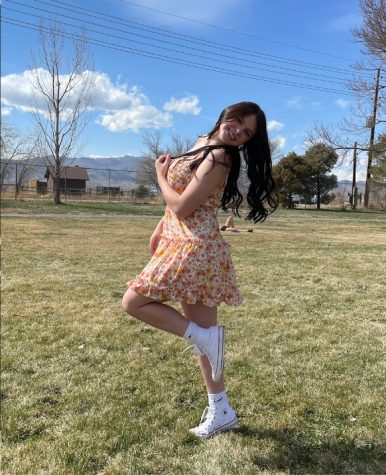 Haley Weeks, Staff Writer
Haley Weeks is a senior at Silver Creek High School, taking Silver Creek's Journalism course for the first time. Haley decided to join this course because...