A Good Girls Guide to Murder Review: A Book Bound to Keep Readers on the Edge of Their Seat
"A Good Girls Guide to Murder"-Written by Holly Jackson-Fiction
The fictional story, "A Good Girls Guide to Murder", by Holly Jackson follows the sweet and smart high school senior Pippa (Pip) Fitz-Amobi as she unwraps her town's darkest secret. The book takes place in the little town of Fairview, Connecticut. Readers get to see Pip, and her new "friend" Ravi Singh go on to discover the biggest mystery of their lives.
"A Good Girls Guide to Murder", is a suspenseful and exciting novel written by Holly Jackson. It is the first book in the murder trilogy, and is a great read to kickstart an amazing series! The trilogy included the following three books, "A Good Girls Guide to Murder", "Good Girl Bad Blood", and "As Good as Dead ".
The Book starts off by introducing the main character Pippa Fitz-Amobi (Pip). Pip wants to be a journalist when she graduates high school and has a love for the art of investigating. For her senior capstone project, she decides to uncover and dig deep into the town's biggest mystery – The murder of Andie Bell.
Five years earlier, the town's very own beautiful Andrea "Andie" Bell suddenly went missing. A few days later, Andie's boyfriend Sal Singh was found dead in the woods' from what looked like suicide. It was determined, after clearly not enough research and investigation, that Sal Singh murdered his girlfriend. Pip had heard this story, but she knew something wasn't right. Pip goes on to further investigate the story, diving into rabbit hole after rabbit hole. She finds secrets that no one was ever supposed to find out. Is everyone a suspect on her list…? This doesn't stop the courageous young girl, she won't stop until she proves Sal is innocent. Will that decision come back to haunt her…?
Throughout the story, the reader gets to see the clues unfold through Pip's eyes. Jackson put a lot of work into this character and wanted to make the reader feel like they were actually along for the ride.
Dramatic events unfold throughout every page, the reader gets to feel the same emotions as Pip. Holly Jackson wanted to create a dark book with themes that are much more meaningful than what meets the eye. The book does take some turns that are unexpectedly dark and makes it seem like Pip's journey could come to an end. She also wanted to have lighthearted funny moods sprinkled in there. She was able to put these moods in by giving some of her characters a brighter personality. Some of these characters include Pip's best friend, Cara.
Overall, "A Good Girls Guide to Murder" is an amazing book and one that should be recommended to anyone who likes a story that will leave you shocked at the end. It is not a book where you can guess the ending, every page leaves the reader in confusion and disbelief just like Pip! The characters in the story are perfect and are given amazing development. It is almost like the reader gets to sit in on the investigation with Pip, have long talks with Ravi, and party with Cara! It is the perfect combination of every girls high school life and a grueling murder mystery.
"A Good Girls Guide to Murder" will leave any reader unable to put the book down, and once the reader is finished, they can move onto the second book!
View Comments (1)
About the Contributor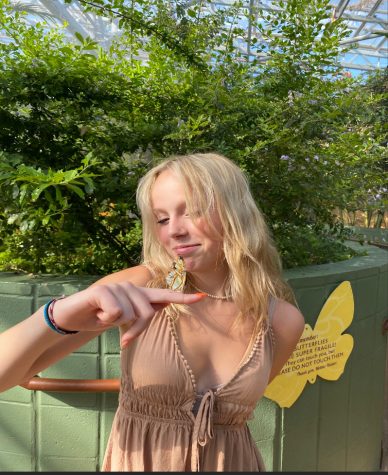 Carlynn Foley, Staff Writer
Carlynn Foley is in 10th grade this year at Silver Creek High School. She has never taken journalism before and is excited to learn what the class has...