Orchestra Plays Their Best at The First Concert of The Year
Orchestra and it's concerts can really bring people together. Either through shared happiness of sounding great, or shared pain from hours of practice. Since Orchestra, Band, and Choir concerts are only 3 or 4 times a year they are all a big deal at Silver Creek High School. Everyone in every ensemble has to put in lots of work, and put care into their performance.
The orchestra concert is two months worth of work shown with 3 songs. With October 11th soon after classes actually started, all the orchestra groups worked their hardest to get ready. Besides the Concert and Symphonic Orchestras, there's also the Fiddle Group. Fiddle Group plays, surprisingly, Fiddle music. Some examples are the songs "Tam Lyn" and "Angeline The Baker." Another part of the concert is Small Ensembles. These are groups of about four people who play different songs than what the rest of orchestra plays for the concert.
The order the groups went in was Fiddle Group, Concert Orchestra, Small Ensembles, and Symphonic Orchestra. All of the groups are conducted by Mrs. Dowling, who's the orchestra teacher at Silver Creek High School. Every group played three songs except for small ensembles. The Fiddle group played "Swallowtail Jig", "Star of County Down", and "Old Joe Clark". The Concert Orchestra played a song based on an Edgar Allen Poe poem. Small Ensembles performed a song in B flat, which is a very difficult key signature for orchestra. The Symphonic Orchestra played some really cool songs. One is about different variations on a little snippet of music. Another song had every section coming in at different times and playing a different melody.
When all the groups performed in the auditorium, all the time that was spent practicing was apparent. The auditorium is usually almost full when people go to the concerts. All the students playing lost a year of on stage performance due to Covid, so an in person concert is something some students are still getting used to. Parents almost always go, but aunts, uncles, and grandparents also attend. Because of how many people from a student's family can show up, concerts can be really important to some people. Freshman Ryan Holden, a bass player for concert orchestra, says "My grandparents come but usually just my parents"
The Orchestra Party is about two weeks before the concert, and is an event where everyone in the group practices with their section, and plays icebreaker games with the other orchestra class. The last hour was a game where you had to find halves of watermelon and put them together to win. Holden says "I liked doing the watermelon hide and seek because it was fun running around with a team."
The entire concert orchestra, especially the freshmen are all really connected. Everyone sounds better and more confident than they did at the start of the year. The most improved of all the groups is Fiddle Group. All the previous members helped all the new members learn songs the group already knew. Everybody also got better at memorizing their music and playing together.
Mrs. Dowling did a great job conducting everybody and all the songs turned out really well. All the students played amazingly and it sounded great.
View Comments (3)
About the Contributor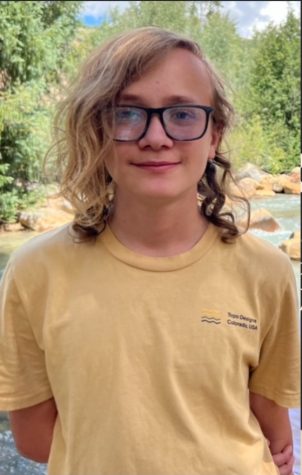 John Baze, Staff Writer
John is in 9th grade. This is his first year taking journalism. He is taking journalism because he likes English, and it's an English elective. He is...