Poetry Cafe: A Space Where Students Can Share Their Poems for Their Peers
Poetry Cafe is a fun way for students to showcase their creativity at Silver Creek High School. Not to be confused with poetry slam, poetry cafe is new to Silver Creek this 2022/23 school year.
Poetry slam is even more of a competition about poets' original poems. Poetry cafe is more of a relaxed competition where students can perform any poem, not just their own. Poetry cafe typically takes place once a month, normally on a Tuesday or Thursday during A and B lunches.
This new version of poetry slam was renamed to poetry cafe because students can come to the library during A and B lunch and perform or watch other students read poetry while they eat their lunch. Many students give private scores and personal feedback for the poet performing.
What's nice about the poetry cafe is that poets don't have to have all the pressure of a more intense competition, when they can just focus more on reading a fun poem they might have written, or picked out beforehand. If students want poetry slam to come back next year, perhaps it will, but for now the librarians are going to stick with poetry cafe.
With poetry slam, there are more specific rules. People perform their original poem and at the end, two people go head to head and perform another poem. This makes it harder to do with only a couple students. Because of the lack of advertising, there is a small turnout.
Silver Creek student Nora McCloy won the competition at poetry cafe on November 15.
"I love the fun competition! I'm a pretty competitive person but I also love sharing my writing and hearing what people have to say about it, and this is a really fun and low-stress way to get that experience!" Says McCloy.
Librarian Kristin Holtz co-hosts poetry cafe with Tina Fredo. "It provides students who love to write poetry an audience, and that audience is going to be receptive. I think that a lot of people don't understand poetry and so they hate it, and so poetry gets a bad rep. And those people who love poetry and who write poetry don't always have an audience for it. But poetry can be really powerful," Mrs. Holtz explains.
Some students have powerful personal poems they have created, while others just share a poem that they might have found online or in a poetry book.
"I'm totally amazed by some of what they write. We have a lot of good writers. I think poetry can be challenging to write so the fact that they have such a skill is pretty awesome," Mrs. Holtz explains.
The good thing about poetry cafe is that it more of supports students who love to write poetry and want to perform it, and get feedback from people who are more serious about it.
"I write poetry for a number of reasons; some boring, some introspective. I think one of the main reasons I write poetry is because it captures the emotions, tone, and general vibe of feelings and ideas that can't be translated into literal words." Says McCloy.
This is How many of the poets put indescribable feelings into their pieces.
"In prose,There's only so much formatting liberty you can take to create something like that. If a feeling goes beyond speech, I generally will write poetry instead of prose! It also works really well for character analyses, because I can really write from the heart and capture their emotions. Also poetry is just fun and I get to make up silly little words and silly little aesthetics," says McCloy.
Prose is a form unlike traditional poetry, with no rhyme and structure.
A lot of students have poems who are very much dedicated to their poetry, talking about their feelings, creating stories, and discovering the deeper meaning behind humans and our emotions. Poetry is a good source for this because there are no rules for poetry.
"Hopefully down the road they either take creative writing in college or they seek out publication of some kind because I think that that's the ultimate goal of a lot of writers, to have that piece published somewhere," Mrs. Holtz mentions.
Even though competition can be fun, its important to have a space that students can just share what they love without worrying too much about staying in the competition. This is why poetry cafe is such a good outlet for students to have fun and share their love of poetry.
View Comments(1)
About the Contributor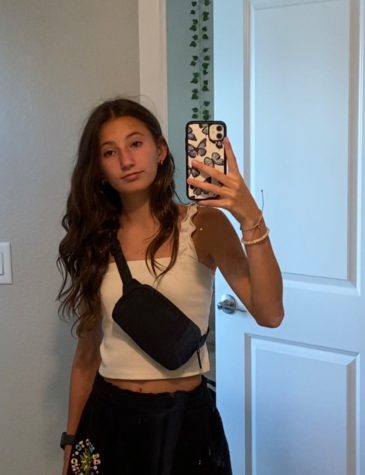 Olivia Wert, Writer
Olivia is a freshman at Silver Creek High School, and is 15 years old. This year is her first year  in journalism. In her free time, Olivia likes to play...