Netflix New Hit Wednesday
This review examines the Netflix show Wednesday. Viewer discretion is advised as there is fear, language, violence. Wednesday is a spin-off of the Addams Family movie franchise and focuses more on the teenage view of Wednesday Addams.
Netflix recently dropped its new comedy/horror hit Wednesday on November 23, 2022. Wednesday has been number one on the Netflix Top 10 picks since the show dropped. There is one season and episodes range from 47-59 minutes. The series reimagines the forever loved Addams Family in a more modern teenage light. It's full of romance, drama, horror, and comedy.
The show is directed by Tim Burton, and like every project he's done, the show is a hit. The series stars the young actress Jenna Ortega, who plays the infamous Wednesday Addams. She put on a great performance and understood her role. The character Wednesday Addams looks and seems psychotic at the beginning of the show with her having a murderous personality. Further into the series viewers can start to understand her as any other 16 year old girl that is struggling to understand who she is, has issues with her mother, and doesn't think she fits in anywhere.
The first episode "Wednesday's Child is Full of Woe" starts the story off in a high school full of "normies" who bully Wednesday and her brother Pugsley (Isaac Ordonez). Wednesday pulls a stunt with no remorse to stand up for Pugsley and is expelled from the school. It is this stunt that drives her mother Mortitia (Catherine Zeta-Jones) and father Gomez (Luis Guzmán) to send her to the Nevermore Academy School for Outcasts which happens to be their own alma mater.
Wednesday meets many peers on her first day, one being her roommate Enid (Emma Myers), she also ends up making a few enemies. Now as viewers would expect, there has to be some sort of teenage drama. Wednesday catches the eyes of the school's "hottest" boy Xavier Thorpe (Percy Hynes White) and town normie Tyler Galpin (Hunter Doohan).
Starting at the first episode, the town has mysterious murders that no one can figure out. Wednesday takes interest in this case and is determined to solve it. This catches the attention of the town sheriff Donovan Galpin (Jamie McShane) and works with him to solve the murders. Eventually the students come together to find out what monster is terrorizing the town.
Wednesday is a heartfelt story full of love, heartbreak, friendship, horror and just about everything else expected to be in a teenage show. It does a great job at bringing the Addams Family into the real world from a teenage girl perspective. They bring the old characters into a new light. It is definitely recommended and a must-watch series.
Leave a Comment
About the Contributor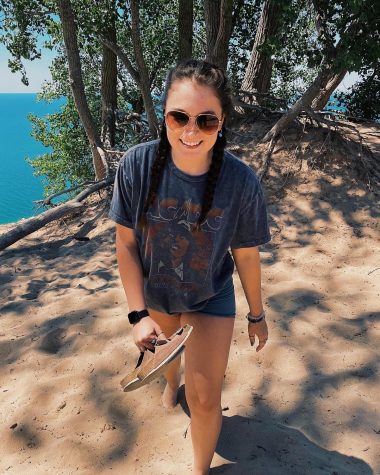 Olivia Enright, Editor in Chief
Olivia is a senior at Silver Creek High School, and this will be her third year as a member of the journalism program and her first year as the Editor...