How the Swimming Traditions Make a Better Environment For All
Girls' Swim and Dive is one of the largest sports teams at Silver Creek High School. With over 48 girls this 2022/23 season, it can be hard to get all of the girls to bond, but lucky enough the swimmers have a solution. They participate in lots of traditions that are uniquely their own, some are small such as secret sister. However there are big ones that mean a lot to the team and have been going on for years.
All of these traditions are passed down in senior wills [where seniors pass down their traditions], where each senior passes something special to the team down to a swimmer who they feel embodies the spirit. For a lot of girls, this means a lot to them. Like Izzy Casas, who was given the sombrero which is decorated in feathers and glitter.
"When I got the sombrero from Greta Richerson (class of 2021) it was an amazing moment," says Casas, a sophomore who has been on the team for two years. "The things she said about me and how she was excited to see what would come of me … I am excited to pass the sombrero down."
These traditions bring the team together. The traditions even unite the divers who have practice separately and rarely get to bond the same way as swimmers do. The divers still get included in traditions like secret sister, a tradition similar to secret Santa, because they are important to members of the team. A lot of traditions are ways for the team to have fun at meets and get to cheer each other on.
"It makes the team more fun, we get along much better and there are much more friendships," says Vivian Nguyen, a senior who has been on the team for four years.
These traditions are also a way for girls to bond who might not have met or become friends because they swim at different levels. Claire Huff, a senior who has been on the team for four years, feels that it is a good way to make sure that the fun of the team gets passed down by making sure everyone is included.
"[The traditions] made me want to stick with the team and keep going and get better," Huff says.
Swimmers also think that the bonding leads to better cheering because they feel like they have more stake in the team and the races. The cheering and the bonding lead to better swims and times.
"The more fun you have the faster you swim," Casas says. "When everyone is cheering you on it pushes you harder."
The girls swim and dive team is a positive force for the better, pushing Creek's athletics to work harder. It teaches swimmers to have a positive outlook and to get involved more than just showing up to practice and meets. These traditions lead to better teams and people.
Leave a Comment
About the Contributor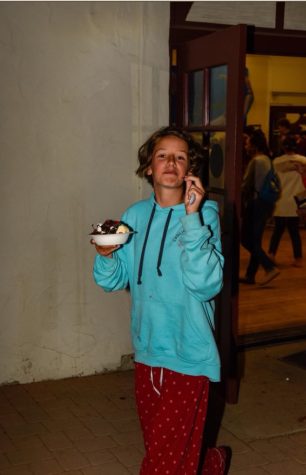 Nola Abraham, Staff Writer
Nola is in 9th grade. This is her first time taking journalism. She wanted to join because she wants to learn more about journalism as an industry and...