Dr. Ringera Inspires Silver Creek's PSA
On Wednesday October 19, Silver Creek High School welcomed Dr. Karambu Ringera, the founder of the International Peace Initiatives (the IPI). Ringera traveled from Nigeria and was able to deliver a presentation to Silver Creek's Peace and Service for Africa club. In her presentation, Ringera describes the work done by the IPI for children and women in Kenya. Through the stories she tells, Karambu Ringera inspires and empowers the audience.
The International Peace Initiatives was launched in 2002 by Karambu Ringera to originally help those struggling through the HIV and AIDS crisis. Now, the IPI focuses on virtually anyone who needs help. Their website states "IPI builds a new generation of leaders through peace and ethical leadership programs, and provides orphans, women living with HIV/AIDS, survivors of violence, and communities with the tools and resources to move from violence, poverty, and crisis to stability and self-reliance, thereby building resilient communities." The impact of Dr. Ringera's work has been enormous, impacting 50,000 people through its community building efforts.
On October 19 during lunch, Dr. Ringera visited Silver Creek and delivered a presentation to the school's Peace and Service for Africa club (PSA). Several students and faculty members attended her presentation and with the stories she told, Dr. Ringera inspired the audience to make a difference in the world.
Justelle Grandsaert is the PSA's advisor at Silver Creek and has been since the club was started 16 years ago by two students. The goal of the club is to fundraise money for students in Kenya to support their schooling. Grandsaert says that "the best way to affect change is through education."
Providing education is a common theme throughout Ringera's presentation, as that is one of the main goals of the IPI.
Starting her speech, Ringera teaches the audience how to say hello in her native language, Kiswahili. Habari, "hello, how are you?" and Mzuri Sana, "I'm very well, thank you". Learning a bit of Ringera's home language to start off gave the students a quick look into the culture of Kenya, where Ringera is from. She also admits to having an accent, as everyone does. "Accents are the gift of diversity," she says.
"Peace is not the absence of war, it is when people have access to the resources they need," states Ringera as she begins to describe the work she has done for women and children.
Her philosophy is that when children are not getting the education they need and deserve, they don't have peace. The resources given by Ringera are an attempt to provide children in Kenya with access to education and therefore boosting the community.
Ringera's support of children's education has been a struggle to uphold for various reasons. She realized that despite all the efforts given by the community, children were still droppinging out of school.
"When children are living in homes with inattentive parents, their schooling will suffer because of the lack of care from parents," says Ringera. She explains that dirty clothes, no school supplies, and isolation from an apathetic family contributes to the dropout rates. She says that children are then blamed for being ungrateful and lazy because many think that if the school fees have been paid, there is truly nothing stopping them from getting education, which simply isn't true.
To counteract these dropout rates, Ringera works with the school to find the root of the problem. She investigates the child's siblings and friends, as well as their home life to see what she can do to support the child. With the education provided, several individuals have gone on to do great things like running for local government, graduating university and working for the people.
With support from Creek's PSA, Ringera was able to create a children's home for children who have lost their parents. Ringera tries to avoid the term orphan because that often leads to the children feeling guilty for the loss of their parents, even if it wasn't their fault. She knows that embracing the child as they are is more important than any label bestowed upon them, as labels only hold the children back from amazing accomplishments.
The children's home is located in a remote place of land. There are separate dorms for the boys and girls as well as a house for Ringera. The open land gave an opportunity for construction, hikes, and more. During COVID, Ringera learned about the power of community. With efforts from the community of the children's home, Ringera and the residents never got Covid.
Dr. Ringera also supports the women of Kenya, like widows and single mothers. Several of these women live in a state of poverty. Ringera helps them to overcome their "poor woman" mindset, which has been engraved into systems and communities. Deprogramming the discrimination against poverty in communities is a momentous task but Dr.Ringera believes that "The opposite of poverty is not money, it is dignity,"
A junior named Kavya Kataria attended the event. "Dr. Ringera's presentation made me feel very uplifted and inspired," she says, "She showed the impact herself and many others have made, without making it seem like they need saving and pity, but instead through giving them confidence. It made me feel driven to help others but not out of pity but instead out of passion and inspiration,"
Doctor Karambu Ringera's words left the students of the PSA in awe and undoubtedly inspired and empowered the audience to try to make a difference in their communities. Because of the work done by the PSA and Ringera, several lives have been positively impacted, leading to a better, more peaceful future for the next generations to come.
Leave a Comment
About the Contributor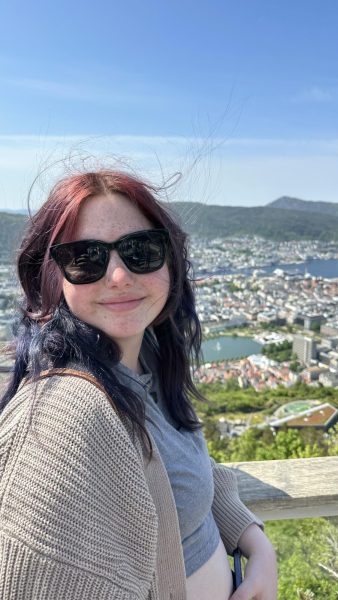 Mia Frazier, Editor
Mia Frazier is a senior at Silver Creek High School. She is in many school organizations and is an active member of her community but, in her free time,...