The importance of celebrating the Lunar New Year with the community
On Saturday, the fourth of February, Silver Creek High School hosted its annual Chinese Lunar New Year celebration. The event was a collaboration run by the Asian-Pacific Association of Longmont (A-PAL) and Silver Creek's Leadership Academy (SCLA). The event ran from 2:00-5:00pm with performances, activities, and food all relating to the Chinese Lunar New Year traditions.
The Lunar New Year is one of the most significant holidays in China. It marks the end of winter and the beginning of spring, which is why it can also be referred to as the Spring Festival. Typical traditions for this holiday include wearing red for luck, feasting with family, and a 15 day long celebration. This year is the year of the Rabbit, which is a symbol for peace and prosperity.
Although going to school on a Saturday isn't everyone's idea of a fun weekend, over two thousand people attended Silver Creek's Chinese New Year event. An event this big requires months of planning and the help of several volunteers as well as outside collaboration with many organizations. Despite the work of this Chinese New Year celebration, it is immensely important that this celebration takes place in the Longmont community.
To start the event, Carrie Adams, the director of the Silver Creek Leadership Academy, welcomed everyone and introduced A-PAL committee members Tzung Sz Shen and Jane Lim. After that, there were a series of live performances including the traditional Lion Dance, which was performed by the Shaolin Hung Mei Kung Fu Association. There was also Beauty of QiPao, a fashion show produced by the Qi Zhou Design Studio.
Jane Lim and the A-PAL committee have been collaborating with Silver Creek High School to host the Chinese Lunar New Year celebration for the past eleven years. Lim remarks that with hosting this event, she has seen that "more kids are becoming aware of other cultures and more open minded."
After the attendees were released from the big gym, they were free to roam around the school where there were activity booths, food, and games!
Lined along the crescent hallway were a total of five activity booths, three of them run and operated by student volunteers from Jamie Vigil's Global Leadership class. Each booth had roots in Asian culture and all related in some way to the Lunar New Year Celebration.
The first booth was Chinese Paper Cutting, where participants could cut out various shapes following an outline on paper. There were bunny shapes as well as the Chinese character for the word spring. The second booth that was monitored by Vigil's students was Brush Painting. At the table there was black paint as well as paint brushes where participants could either follow the panda painting example that was provided or they could freestyle. The final booth run by student volunteers was the Origami booth where participants could fold whatever their heart desired! Of course there were instructional sheets on how to make some animals like cats, dogs, and rabbits.
For the class's training, Jane Lim visited Jamie Vigil's SCLA 11 class and presented to the students how to do each activity, as well as the significance and history of them. Although this is the first year where there is an official SCLA class tasked with running the booths, each student took on their roles with responsibility and pride.
"It's impactful when we [SCLA] can be involved in an expression of culture in the community." Vigil says
To her, the experience of celebrating an event of such cultural significance like Chinese Lunar New Year, it's important to do it in person, not through something like watching a video.
As well as the activity booths in the hallway, there were also games in the small gym. One student named Ming Yao Liew, who is an Ambassador with Silver Creek's Leadership Academy, was in charge of the Chinese Character matching game. He says that celebrating Chinese Lunar New Year with the school this year was especially exciting since he had not gotten to experience it due to Covid.
"It's an event that has always happened at this school, but it was great to see other people of my culture as well," Liew says.
During 2020 to 2022, there was no Chinese Lunar New Year celebration hosted at Silver Creek. In the past and now, the Chinese Lunar New Year celebration is an important event to several people in the Chinese and Asian community of Longmont.
Not only does hosting this event help to educate those about different cultures but it also does it in a fun and inclusive way. Not only is Chinese New Year celebrated at Silver Creek in an accessible way but it is a great tradition that must continue for as long as possible!
Leave a Comment
About the Contributor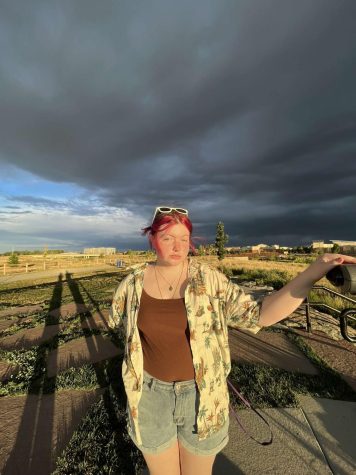 Mia Frazier, Editor
Mia Frazier is a junior at Silver Creek High School. She is in many school organizations and is an active member of her community but, in her free time,...