Silver Creek Rec Basketball Team Tear up Competition
Sundays mean a lot of different things to different people, whether it be football, church, recovering from a late Saturday night, or whatever seems fun. For the Longmont Bears, Sunday means game day. High school athletes and non-athletes all came together to form a recreational basketball team through the Longmont Recreation Center.
Rec basketball is a non-club, non-competitive way to play basketball against other rec teams around Colorado. After grouping together around 10 high schoolers, naming the team and paying the small fee, a rec basketball team is created as long as it's registered a week before the season starts. Every Sunday, rec teams play the team that is on their schedule. The score, stats, and quarters are all tracked with real referees officiating the game.
The Longmont Bears, a Silver Creek rooted rec team led by head coach Josh Lurie, went 6-0 and won the league. Lurie talked about why his team was the only undefeated team in the league.
"We had a team full of competitors," Lurie says. "When you put five of them out there it's tough to not come out on top."
Longmont Bears starter and star, Grant Gaddis, touched on why the Bears were so good on the court.
"Our team chemistry was unbelievable and that helped us punish the inexperienced teams," Gaddis mentions.
Faced by some solid teams, including their rivals which is another Silver Creek rooted team, the Junior Nuggets. The Longmont Bears won their games with an average score of 56-18. With good teams from all over Colorado, something set the Bears apart.
"We put in the work during practice and that helped us understand what we were doing during the game," Gaddis states. "Our teamwork was outstanding."
Although the Longmont Bears team killed it in basketball, they also knew how to have fun with the sport and their teammates.
"The boys all had a lot of love for each other," Lurie explains. "Everyone loved being together and especially playing together."
The Longmont Bears had quite a presence on social media. Longmont Bears players Quinn Lockwood and Tyler Plaster started an Instagram account for the Bears. They create graphics and fake articles about the Bears, pretending to be a professional media page.
"We first created the page just as an outlet to mess around and have fun," Lockwood mentions. "Once we started seeing some support and liking of the page, we turned it into a way of pretending to be a more professional team."
After a few of the posts got some likes, it began to motivate the team even more.
"It created something for our team to play for as we always wanted to post a winning graphic," Lockwood says.
The Longmont Bears season is something to remember. Going down in the Longmont Colorado Recreational Basketball history books as one of the only teams to never lose.
View Comments(1)
About the Contributor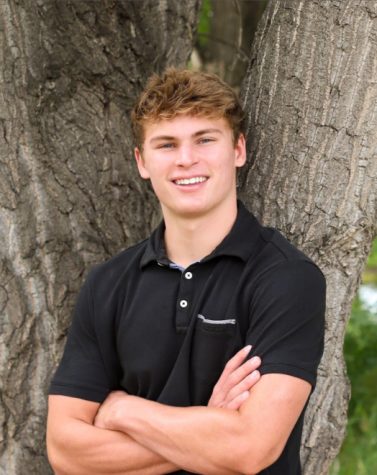 Luke Riters, Staff Writer
Luke Riters is a senior here at Silver Creek. Luke has been here all 4 years of his high school career. This is his first time taking a journalism class....