Silver Creek's Most Impactful Fundraiser: The Change For Change Drive
Over the years, Silver Creek High School's Peace and Service for Africa Club (PSA) has partnered with the International Peace Initiative (IPI) organizations to raise money for the education of a student that they sponsor yearly.
Unlike American public schools, students in Kenya have to pay for their education, whether this is tuition fees or other needed items like uniforms or books. One of the ways that PSA helps with this fee is with an annual Change for Change Drive, which ran from February 14-28. This year, PSA is supporting Lucy Kageni, a 17-year-old girl living in Meru, Kenya.
Their goal was to raise $500—which they've already surpassed in the 2022-2023 school year—to help further fund her education and the rest of the money will go to the Amani Home, which is the orphanage Kageni has been living in since her parents passed away due to AIDS complications.
Kageni is striving to become a teacher, so support from organizations like PSA and IPI will allow her to have better access to education and the safe environment that comes with it.
PSA, sponsored by Justelle Grandsaert, who teaches Integrated Nine and Government at Silver Creek, has been raising money for several different students through the Change Drive over the last 16 years that they've been running it.
As a teacher herself, Grandsaert is passionate about all people having access to education, which is something that drove her to organize PSA years ago and continuously work with Kenyan students.
"This is our fifth student we've sponsored, so we've sponsored students throughout the years, and we usually sponsor them through their high school programs," Grandsaert said.
In the past, fundraisers to support their previously sponsored students have done incredibly well. According to Emily Lindberg, who is the president of PSA and a senior at Silver Creek High School, the Change Drive when she was a freshman, her first year in PSA, raised $1,186.
Although PSA runs other fundraisers throughout the year, such as candy cane sales around the holidays, this is usually their most rewarding event.
"This is our biggest [fundraiser] though, with the Change for Change we usually raise the most money. Last year we raised $800. You don't think change would do a lot but if everyone donates, it adds up," Grandsaert said.
This year's fundraiser had a similar turnout, with PSA raising $743.15 by the end of the two week period. Kageni's goal has been surpassed even further, meaning that her books and uniform will be fully paid for.
Even when measured with something like the success of a fundraiser, it's a marvel how organizations like IPI can open up opportunities for smaller clubs to leave such a large mark on the world.
Emily Lindberg has been involved with the club since her freshman year and has seen it's impact first-hand throughout her time at Silver Creek.
"Going to school and learning has always been something that I greatly value, and knowing that I can help someone who otherwise may not have the opportunity to go to school keeps me motivated," Lindberg said.
Earlier this school year, IPI founder Dr. Karambu Ringera held a meeting at Silver Creek where she spoke about her experiences working with young women and students across Kenya.
According to Linberg, "It was incredible hearing her speak about the work she does and the lives she has changed, and I believe that everyone who attended the meeting left feeling motivated to make a difference."
That same will to create change in the world is shared by Lindberg's fellow members, who feel equally motivated to have an impact.
Evelyn Bowman, a junior at Silver Creek High School, has been working with PSA for three years. To her, some of the most motivating aspects of her efforts are the way that Silver Creek can unite to support a cause and the effect that said support can have on other people.
"When we are given pictures of the people we are supporting and when we learn about their hopes and goals, it helps motivate me to help them get those goals accomplished," Bowman said.
The Change for Change Drive is just one of the ways that Peace and Service for Africa is supporting the education of people like Lucy Kageni, and in turn helping them pursue their aspirations for the future.
Leave a Comment
About the Contributor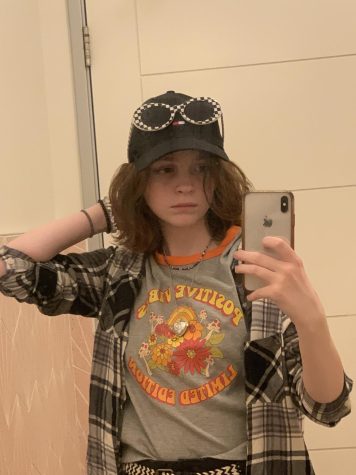 Daisy Tiner
Daisy Tiner is a freshman at Silver Creek High School. This is her first year in Journalism. She is taking journalism to expand her writing style and write...