The SAT is Approaching, Heres What You Need to Know
Sitting in a classroom on April 12, 2023, phones getting collected and iPads set on desks, Students settle to take the infamous SAT. What is it like and how does it feel to take the SAT that's the last of its kind?
As juniors gather to take the SAT, stress is high and expectations are even higher. the SAT (scholastic aptitude test ) is a multiple-choice, pencil-and-paper test created and administered by the College Board. The test will be taken at Silver Creek on April 12, 2023. this year will be the last year the test is taken in its traditional form, before changing to an online platform. Although some colleges overlook the SAT, others continue to look at it as an admission requirement.
As teachers and students start to near the SAT, everyone has their own way of preparing and getting ready for it. Carter Martin, a junior at Silver Creek High School states what helps him prepare for the SAT.
"I have been preparing for the upcoming SAT by working through the Princeton Review SAT Prep Guide," Martin shares. "It includes explanations of each section, practice tests, and tips to help you succeed on the test." With this he also has other ways of studying.
"I've also been looking back at my PSAT scores to see what subjects I'm doing well in and which ones I need to spend more time studying."
The SAT has been around since 1926, undergoing many changes in how it's been perceived and viewed by colleges. According to the College Board, only 52% of colleges still utilize the SAT when considering an application; however, for 48% it's not a priority. Though this doesn't mean the SAT is not a stress point for students.
"The SAT does cause me a lot of stress because it is emphasized as being a very important part of the college admissions process. Because I want to go to a prestigious college with a sub-10% acceptance rate, a high SAT score seems like it would be a big part of getting into a school like that," Martin states.
"However, the abundance of other opportunities to show my skills on a college application reduces my stress significantly," Martin explains.
A lot of students' stress is lowered knowing that many colleges and universities are SAT-optional.
Everyone is a different type of test taker. When it comes to a test like the SAT, everyone has different tips and tricks they use to help have a higher chance of success. Alysia Romero, a director at Tutoring Excellence, has worked with high school students on the SATs and she shares one of her most valued tips.
"Students like to over-analyze [SAT], so they think way too much about the test and put way too much pressure on themselves, so instead of putting that pressure on themselves they can think simplistically, don't overthink it," says Romero.
Whitney Mires, a counselor at Silver Creek, also shares some advice on how to have success on the SAT, she also states she borrowed her favorite test strategy from Julie Forbes, a Psychology teacher at Silver Creek.
"Before every test she makes her students say 'I know this I got this' so basically go in confidently, don't sweat it," Mires also states another tip as well.
"The other piece, specific to the SAT is don't leave anything blank, because they don't count off for guesses," Mires shares. it's better to guess on a bubble rather than leave it blank and lose credit completely"
After about 96 years of the SAT being taken by students on paper, the college board announced in early 2022 that the SAT would be offered as an online test, starting in the 2023 and 2024 school years.
"The SAT will not fully switch to the digital version until after I have taken it," Martin states.
Along with the new format, the SAT will also be shortened and cut from three hours to only two hours then moved to the online platform.
Mires states that "there will be a learning curve of course, but in the long run, it will be catching up with the times"
As the world continues to develop especially with technology, online test-taking will soon become the norm. Students already practiced taking the PSAT online very recently in October (and will again in April). Along with the SAT, the ACT is also moving online.
"Students in your generation have not done a whole lot of paper testing, I think it represents what you're used to," Mires states when asked about the SAT being moved online.
With the SAT season starting up with big brand new beginnings, juniors get ready. Say goodbye to the original SAT test, and hello to the new digital one.
Leave a Comment
About the Contributor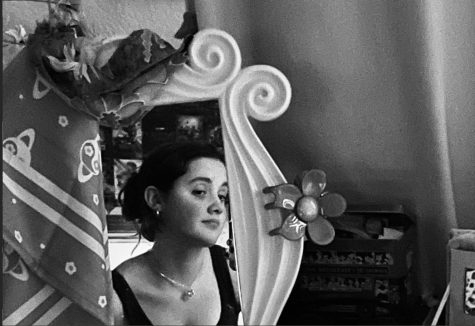 Hannah Kelley, Staff Writer
Hannah Kelley is a freshman at Silver creek high school. This is also the very first time she is taking journalism. She wanted to take this class because...