Boys Swimming Season Starts Up and the Boys are Working Hard to Meet Their Goal
From jumping into the water to stroking through the pool, the Boys' Swim team is at it again after placing second in State last year.
February 20, 2023 was the very first boys swimming practice. The swimmers and the coaches started the swim season off and are putting all of their effort into this year's team. They are practicing five days a week at the Silver Creek Aquatic Center to try and complete their goal of placing at least top five at State this season.
The Head Coach for all the swim teams at Silver Creek, Debora Stewart, shows ambitious goals for this swim season.
"Our goal is … to keep them in the top five at State this year," Coach Stewart says.
This goal made by Stewart is inspiring the boys on the swim team to create some of their own personal goals.
Neil Marble, a sophomore and a second year swimmer at Silver Creek, also shared his own goals for this year.
"My goal is to have fun with my friends and improve on drop time… I am hoping to qualify for State this year," Marble mentions.
Marble has been swimming since second grade and is ready to take on this year's swim season. Though, there might be some challenges for the team.
Rachel Dowlin is the brand new swim manager for the boys team. She uses her previous knowledge of last year's team to predict the success of this season.
"Last year [boys' swimming] almost won State but some of the strong swimmers haven't been swimming in the middle of the season and some left," Dowlin states.
Although the swim team has lost some swimmers, the swimmers that are currently on the team are working hard.
"We've had some pretty fast times and we'll see more after the first meet," Coach Stewart states.
Marble also believes the team will have success and that this will be a good year based on the people on the team.
"I think we will do pretty well this year. We have some good swimmers this year and a pretty big team," Marble explains.
The swimmers are in for a season of hard work and perseverance. Every person on this team will be working to continue their streak of placing in the top five at State. Coach Stewart will be using her years of experience and passion for the sport to get the boys to another state title.
"I wouldn't be coaching for 22 years if I didn't love it," Stewart mentions.
So far the swim team is proving to be successful. The first swim meet occurred on March 4, 2023 and Silver Creek placed first with 265 points. Their biggest competition so far is the Brighton High School swim team who placed second with 171 points. The boys swim team has a chance of winning state should they continue with this successful streak and continue to collaborate and achieve their goals.
Leave a Comment
About the Contributor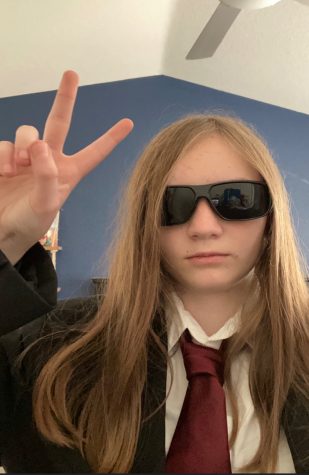 Mylie Stevens, Staff Writer
Mylie Stevens is in her freshman year at Silver Creek High School. Mylie previously went to Altona Middle school and followed in her sister's footsteps...