Freshman Girls Swimming to Success
Walking through the brand new swim building doors at Silver Creek High School for the first time, 12 freshmen are excited to start their swim team journey.
Balancing school and being on the swim team can be a lot when just figuring it out, but these freshmen still found a way to balance school, swim, and their life outside of school. 12 freshman girls from all different experience levels participated in the swim team this year. All of them worked together as a team to have a successful season this winter.
Olyse Mecca, a freshman on the team shared that she has been swimming for nine years, and decided to join the swim team this year so she could swim more competitively. Mecca also swims for a club team called the Longmont Redtails.
Since the swim team practices every day, and has meets on top of that, figuring out how to manage time wisely outside of swimming for the first time can be hard.
"I think it's easier to balance school work now, because I'm not swimming every day, I'm swimming every other day," says Mecca.
At meets and practices, everybody gets included by cheering on all teammates and all having a great time together. The team also bonds through their team dinners before meets.
"Everyone was included in meets, there were different heats for your different times," says Mecca.
Delaney Ritchey has been swimming for four years, and currently swims for the club team Elevation Athletics.
"I wanted to be on the swim team and be able to do what I love and do it through the school," says Ritchey.
Ritchey also shares that balancing everything else that she has going on and the school swim team was difficult, but she eventually figured it out.
"I would have to leave classes early and then catch up on work … I would say it has gotten easier [balancing school and swim] because I've been doing it for so long and got the hang of it," says Ritchey
When comparing high school swim to club swim, Ritchey and Mecca had similar perspectives.
"High school has a bit more meets than my club team does. Club is a bit more intimidating than highschool." Says Ritchey.
After their first year experience on the team, both Mecca and Ritchey shared that they will be continuing to swim for Silver Creek next year.
View Comments(1)
About the Contributor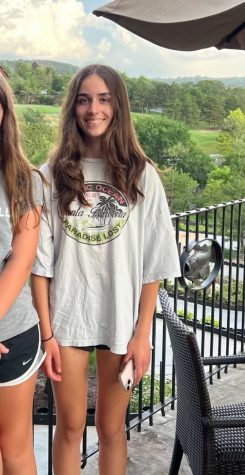 Charly Diekmann, Staff Writer
Charly is a freshman at Silver Creek High School. This is her first time taking journalism, and she is taking it to get better at writing. At the school,...