Star in the Making: Porter Huff Goes Big in Vail
For Porter Huff, skiing is pretty much as natural as walking. Huff has come a long way from learning to get down the hill at two years old, to becoming one of the top freestyle skiers in the world in his age group as a Freshman.
From December 16th-19th, Huff, a Freshman at Silver Creek, is competing in a freestyle competition in Vail, Colorado. He finished his second run on Saturday throwing down a backflip off the first jump, and following it up with a cork 360 (a backflip with a 360 degree spin) on the second jump, and he completed the run in 25.2 seconds. Huff ended the day taking first place in his age group, and seventh place overall, in the competition that featured contestants up to 18 years old.
This high finish has become the norm for Huff over the past few years. He has been a member of the Winter Park freestyle team for seven years, working hard to develop his tricks and technique to dominate the competition.
For Huff, competitive Freestyle Skiing has become his life. He has been competing on the slopes since he was seven years old. He has put in the hard work with his team, and is moving up the ranks.
"There are levels you move up to as you get older and better," Huff says. "I started out in the Devo (Developmental) [program], then moved up to RQS, and now I am on the Winter Park Competition team. The next step is the US national team."
Spectator and Silver Creek Senior, Tyler Plaster, is one of many who recognizes Huff's incredible ability.
"It was awesome watching Porter up there," Plaster explains. "To see him hitting those crazy tricks was unbelievable, especially as a Freshman. I'm super glad I was able to watch him compete."
Huff has been throwing down crazy tricks for years now. Recently, he has been working on expanding his bag of tricks.
"I am currently working on a cork 1080 and a backflip 360," Huff mentions.
All of his hard work, paired with his great attitude, will pay off sooner or later. But Huff is not worried about that. He just wants to keep that good attitude.
"My ultimate goal in skiing is to get better and have fun."
Huff knows that there's a lot more to competing than just your results. He is very grateful for all the opportunities and relationships that his skills have created for him.
"It's fun to progress in something you love, with the people you love."
Needless to say, Porter Huff has a bright future ahead of him on the slopes. His work ethic, love for the sport, and great attitude is sure to carry him to a promising career.
Leave a Comment
About the Contributor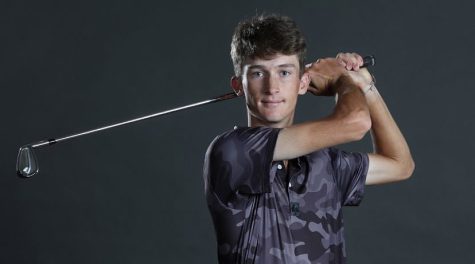 Ben Harding, Staff Writer
Ben Harding is a Senior at Silver Creek High School.  He is an editor for the Talon Tribune.  He enjoys playing golf, skiing and fishing with the boys. ...