The Outstanding Student Awards: A Fight to the Finish Line
With the end of the year inching towards completion, the students at Silver Creek High School are putting in tremendous amounts of effort to finish strong and successfully to complete the school year. With this hard work in mind, the staff at Silver Creek organizes their annual Outstanding Students Award given out on April 25, 2023. This award represents the top students who show great attitudes throughout the school year and who represent the strong character shown throughout the school. Showing this optimism, students are able to receive special recognition from staff as well as other students throughout the school.
With this dedication in mind, Leslie Chopp, Silver Creek registrar and award organizer, emails staff throughout the school and creates a ceremony that successfully allows students to see their impact towards the school and how much they are truly valued by the administration.
Chopp expresses the importance of this award.
"The students receiving this recognition should be top students in your class demonstrating character, leadership, work ethic, and a positive attitude," Chopp continues. "It's not necessarily the really smart kids, it's those who are working really hard. It's a great way to recognize those students."
Through taking time to value these students, the students are able to recognize that their hard work does make an important change for the school and their personal lives. From studying for hours to staying positive through the school year, having their work acknowledged brings a sense of pride and honor for themselves.
Jake Bator, previous award winner in 2022, expressed his pride from his award.
"Getting this award shows that hard work truly does pay off and that it isn't easy to succeed." Bator said. "It's a very big honor to be chosen for this award."
With the passion presented with this award, it's important to show how valuable the students are. By having the award being set at the end of the year, it's something both students and staff can look forward to. Along with this, since this year was especially hard for many students, the ceremony is a way to congratulate hard working students and to send our seniors off with a positive attitude and self confidence.
Seeing how important this award actually is to many students, the teachers take time to choose wisely.
"It's hard for the teachers because they have to narrow it down. We ask them to only pick one student," Chopp says.
Through evaluating performance and work ethic all year long as well as considering their ability to support others and communicate their needs, the teachers pay attention to every detail trying to find the perfect student for this award.
English teacher, Kaelyn Vargo, describes her perspective of picking one of her students.
"Sometimes you have to choose between 120 students, that is the most difficult part because you have to narrow it down to just one student." Vargo said. "I don't pick just the person who has the highest grades. I want to look at someone who participates, who is a good classmate, who will put up extra chairs at the end of the day or asks a lot of questions. It's not just the person who has 100 percent."
This award ceremony takes a lot of effort from Chopp as well as most of the Silver Creek staff to organize and successfully complete. Although the process is long and complicated, the results are very rewarding for the students. Understanding how important their role is at Silver Creek, it helps the students to persevere throughout their high school careers and learn hard work ethic and dedication.
Leave a Comment
About the Contributor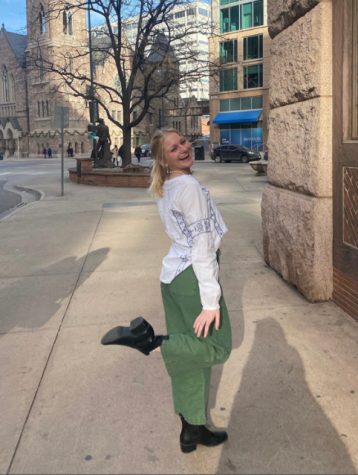 Tessa Bantowsky, Staff Writer
Tessa Bantowsky is a Junior at Silver Creek High School. This is her first year taking Journalism. Tessa is excited to write for The Talon Tribune and...