Hacky Sack Takeover
Hack, stall, save, juggle and serve are all terms that could be overheard from a group of hacky sack enthusiasts. To the general public, this confusing jargon has no meaning to them, but to 'sackers' it is just common language.
In the past year, more and more students can be seen hacky sacking with their friends, in and out of school, always with a smile on their face.
Some of Silver Creek's most dedicated sackers have gained a following on social media, showcasing their talents to the rest of the world. Seniors Brody Frankowski, Zach Schmeeckle, and junior Ryder Nicolaus run @ponzasacks on instagram, where their followers can see videos of them having fun hacky sacking.
The three of them decided that they wanted more people to see them trying out new tricks together and having a good time.
"We were kind of just hanging out one day, and we thought it'd be cool to post some clips and see how it worked out," Schmeeckle said. "So we hit a few things, filmed them, and created the account."
After only a week, a video of Frankowski practicing in his room gained thousands of views, which they weren't really expecting.
"We just posted on there just for our friends to see and we didn't expect it to grow so rapidly," Frankowski said.
Their videos even got the attention of a dedicated hacky sack brand that offered to send them their own product.
"We got sponsored by a hacky sack company," Schmeeckle said. "[they] sent us some stuff."
Frankowski has been a hacky sack enthusiast for multiple years now, and credits his experience as a soccer player with allowing him to have better skills.
"I started sacking freshman year but I've played soccer my whole life which has really helped me sack," Frankowski said.
Hacky sacking is primarily a group activity that can be seen happening at Silver Creek. This means that students can bond with their friends through a group circle, which is a reason Schmeeckle said why he enjoys hacky sacking so much.
"It's a great pastime, hang out with your buddies, maybe hit a little sesh," Schmeeckle said.
Frankowski is the same way, as he has a positive attitude towards the growth of the hobby within our school and is excited to have more and more people become interested.
"It's nice to have other people to connect with and share a passion with and you can always meet new people," Frankowski said.
Hacky sacking has seen a lot of popularity this year, but could be seen during mask breaks over previous years affected by the COVID-19 pandemic. Then and now, it is a good brain break for students to get active and free themselves from the stress of school.
History teacher Bryon Booher, who has been hacky sacking since college, recalled buying hacky sacks specifically for use during mask breaks.
"I bought hacky sacks and did it on mask breaks," Booher said. "during COVID I thought that it was a cool way to get relief."
The spike of hacky sacking this year is seen positively by most students, but some seasoned hacky sackers are unhappy with the amount of people just getting into the hobby. Senior August Falborn feels this way.
"I feel like some students are just hopping on the bandwagon," Falborn said.
Throughout previous years, many fads and trends have found their way into schools. Booher and Math teacher Vincent Redding feel that hacky sacking will pass eventually. Redding recalled that there was already a trend of hacky sackers earlier in his career at Silver Creek.
"I think it comes and goes," Redding said. "It was very popular in a small circle of people when I was in high school, and then like five or six years ago there were some groups of kids who were hacky sacking."
No matter the case, hacky sackers will be seen through the end of this school year, and only time will tell if the craze will continue into the next one.
Leave a Comment
About the Contributor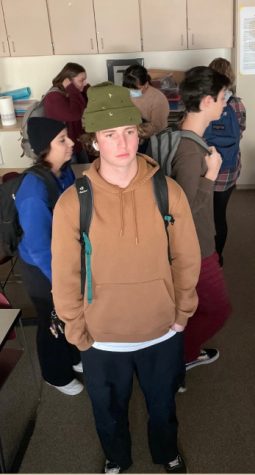 Ben Hrubesky, Staff Writer
Ben Hrubesky is a senior and this is his first year taking journalism. He wanted to take this course because he believes it may be something that he wants...