Liana Kelly Takes 1st Place in the 1st Tournament of the Season
This past weekend the girls varsity tennis team tackled their first tournament of the season. The team woke up at the crack of dawn and left Silver Creek High School at 6:15 am on Friday and Saturday to make the trek to Greeley West High School. 14 different schools came to compete at this tournament, and the girls played for two days, battling for the championship, and Silver Creek's two singles player, was successful in that battle.
Senior Liana Kelly has been on the tennis team since her sophomore year where she played 1 doubles, which is the highest doubles position on the team, then in her junior year played 3 singles, the third highest position on the team, and is now playing 2 singles, the second highest position on the team. Kelly's first time ever picking up a tennis racket was during her sophomore year when she had to choose a new sport.
"I got so many knee injuries from soccer, my parents wouldn't let me do that anymore, and my uncle really wanted me to try it, so my first match ever was my sophomore tryout match," Kelly explains.
Ever since Kelly's first day on the court, she's loved tennis. Kelly says that tennis is her favorite sport, and it's so much fun playing with her friends.
"I'm pretty successful and it's fun hitting and messing around, and [coach] Whitley's fun. It's just really fun playing with the team."
Kelly played four matches overall this weekend and took the gold after winning 6 games to 1 in her first set, and 6 games to 2 in her second set against Castle View. In each set the players go to 6, and whoever gets 6 points wins, except they have to win by two, so if it's close then there is a 10 point tie break. Kelly then went on to play a 6-3 set, and a 6-7 set, with a 10 point tiebreaker ending at 10-6 against Mullen, then a 6-4, 6-0 win against Legend, and a final victory of 6-1, 6-3 against Valor Christian.
Kelly claims that her victory this weekend had to do with level of skill, and she believes she has better mental toughness than some of her opponents which gave her an upper hand.
"Sometimes my opponents would get down, but I would just keep going, keep the train moving."
Kelly's tennis Coach, Sara Whitely, attributes her success on the team to her work put in during the off season.
"She really worked hard during the off season to improve her serving, and her ground strokes, and she has a good tennis brain for constructing points. It was also a 5A tournament, and I think she got a really good draw too. I think that that was all things that were in her favor, but the most important is she put in the time off season and really thinks about stuff."
Kelly's other Coach, Paula Nelson, says that she's excited for state this year because she thinks Liana will go far due to her improvement from previous years.
"Her game has improved significantly from last year, she went to state, won a few matches at state, but this year we think she has a chance to be in the top 3 positions."
This is Kelly's last year playing for the Silver Creek High School team. Although she's sad, and knows she'll miss it, she says she's had an amazing experience, and has loved playing, and making new friends for the last three years, and wants to play next year "hopefully for CU, on their club team," so that she can always have tennis be a part of her life.
Leave a Comment
About the Contributor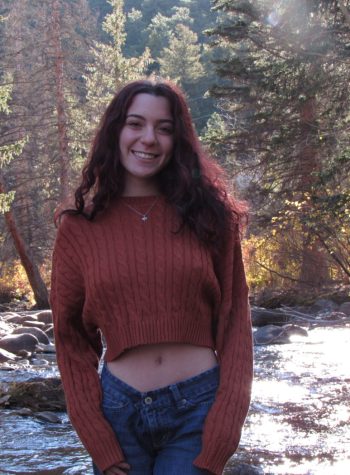 Addy Shevin, Staff Writer
Addy Shevin is a senior taking journalism for the first time. She decided to take journalism because she is interested in journalistic photography in the...