The Summer I Turned Pretty Review: A Very Popular Series
'The Summer I Turned Pretty' by Jenny Han is the first book in a three book series. The book shows what it is like for the main character, Belly, to live at her beach house during the summer with her family and the Fisher family: Conrad, Jeremiah, and Susannah.
Jenny Han wrote the book series to tell a story about "girlhood in general." She wanted to make a book that showed growing up and being in power. She had a hit series before 'The Summer I Turned Pretty' called 'To All The Boys I Loved Before', and she wanted to give the audience who liked that series more. She wanted to give the fans more of what they wanted, but also something new and fresh.
The first book of the series starts with Belly and her family arriving at the summer house. The two families go to a beach house in North Carolina for the summer which has been a tradition for their whole lives. The book also gives a back story on how Belly has liked Conrad Fisher for the last fifteen years. Conrad and Jeremiah Fisher are both brothers who go to the beach house with them.
Over the summer, Belly, her brother Steven, Conrad, and Jeremiah spend their time around the beach town with other friends. They go to bonfires and parties, where Belly met Cameron, her first boyfriend at the beach house. Belly got left out of many things because she was the youngest girl and the boys didn't want to include her, so she would spend many nights watching movies with her mom and Susannah, Conrad and Jeremiah's mom. But when Belly first got to the house one summer, everybody noticed how much more grown up she looked, and she got to go out and do more.
Further on in the book, Belly noticed that her mom and Susannah would go out shopping a lot more than usual and spend more time together. Belly had known that Susannah had cancer before, but she thought that it had gotten better. Later on Belly found out that they weren't going shopping and instead were going to doctor's appointments because her cancer had gotten bad again.
Once the kids found out they were mad that nobody told them and got into more fights.
Overall 'The Summer I Turned Pretty' is a great book and has many plot twists throughout the series. It makes the reader want to keep reading, as there aren't any dull moments, and something is always going on. It's a book that all connects together in the end, and all the characters were well developed, and throughout the book more of their personality was shown. There's lots of action that will keep readers engaged. It has an ending that flows well into the next two books of the series.
Leave a Comment
About the Contributor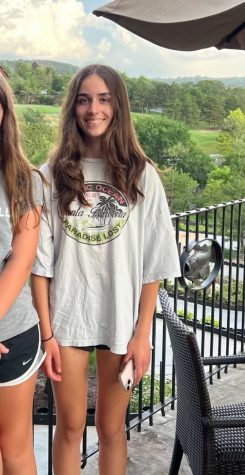 Charly Diekmann, Staff Writer
Charly is a freshman at Silver Creek High School. This is her first time taking journalism, and she is taking it to get better at writing. At the school,...