Girls Tennis is Back in Season!
Smacking the ball on the court, hitting the ball with their racket, putting their hair up Girls' tennis head coach Sara Whiteley's girls are back on the court.
Back on the court with girls playing tennis in the hot air, some seniors will miss playing tennis in the Colorado weather, but some freshmen are excited to get the opportunity to play with these amazing girls. Tryouts for the team were in the first week of March for JV and Varsity. There were 40 girls trying out and only 25 girls made the team, one of which was Hayden Duckworth, who is the only freshman on the team. This will be Duckworth's first season with Silver Creek.
"It is a bit intimidating surrounded by older girls with more experience than me, but I am still very excited to have the chance to be on the team," Duckworth said. "I'm glad I have been given the opportunity to play with them and get better."
Being the only freshman on the team, she will have a lot of things to learn from her older teammates and the seniors leaving this year.
But some of the seniors are sad that this will be their last year playing for Coach Whiteley and for Silver Creek. Senior Olivia Wisecup has been playing tennis for all four years of her high school career. She will miss everyone and it will be hard when she goes off to college.
"I am sad to see that this is my last year [playing girls' tennis]," Wisecup said. "I will miss the connections and fun but I also am looking forward to new experiences in college."
Since some of the girls are leaving after this year, this will create more varsity opportunities for the girls that are going to continue next year. For Duckworth, at the beginning of her first season made JV doubles, where she plays in JV tournaments with a teammate on the court with her. Next year she will have an opportunity to move to varsity.
Duckworth will have to make new friends, but this should be easy since everyone on the team is super helpful and nice.
"I think that the team is full of really nice players who are supportive and ready to help," Duckworth said. "They have been really kind and welcoming, especially since I don't know anyone super well on the team."
Having uplifting teammates will always make everyone feel like they're an important part of the team. If a teammate had a tough match, or is having a bad day at practice, they will do everything they can to help because they want others to play their best.
Leave a Comment
About the Contributor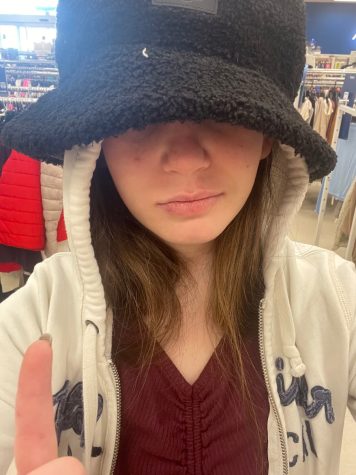 Olyse Mecca, Staff Writer
Olyse Mecca is a freshman at Silver Creek High School, and is 14. This is Olyse's first time taking journalism. Some reason why Olyse took Journalism...