Beat Longmont: Silver Creek's Biggest Rivalry
When sports fans think of the biggest rivalries in sports, they think of Red Sox vs. Yankees. They think of Celtics vs. Lakers. They think of Ohio State vs. Michigan. They think of the Silver Creek Raptors vs. the Longmont Trojans.
The Raptors Basketball teams are set to take on Longmont at home on January 24th, and then at Longmont High on February 15th. The Raptors and the Trojans have battled it out for years. They have a reputation for always putting on fiercely competitive games. When the two teams play, people come to watch, because they know it will be a battle on both sides.
This rivalry has a vast extent of history and tradition. Raptor and Trojan fanatics have experienced a myriad of great games and moments. Players throughout the years on both sides have shown up in this game and had standout performances. Head Assistant Coach and former player Christian Warner knows about the importance of this game every year.
"Every year, we're always looking forward to playing the guys across town," Warner says. "Between the two schools, some of the players have grown up playing together. It's always a physical, high intensity matchup. You can expect a good atmosphere."
Between the Raptors and the Trojans, every game is a 32 minute clash. Fans can always expect a close game for both the boys and the girls. Warner also emphasized how tough this game can be.
"Both teams have similar styles of play in the fact that we are both physical and preach the defensive side of the floor first," Warner says. "It comes down to who is more physical and composed that night."
Katie Peterson has just finished her second year as the Raptors Womens' Basketball coach. This year showed improvements, as her team racked up seven solid wins. The year also saw Senior Forward, Taylor Mallett, break the single season rebounding record with 173 rebounds this year.
Peterson emphasized that her team keeps a good mindset throughout the whole game against the Trojans.
"When it comes to playing Longmont, we always know the energy is going to be really high," Peterson said. "We talk about playing not too high and not playing too low, and with Longmont the concern is not having too high of an energy and intensity because you'll end up making mistakes you normally wouldn't and play with emotion instead of composure."
This neutral mindset kept the Raptors focused on the task at hand, and led to a big time 45-41 win over the Trojans January 24th.
This rivalry is teeming with tradition. The Raptors and the Trojans have been playing since the opening of Silver Creek in 2001. There have been many contests between the two teams since, and Head Coach Bob Banning has seen all of them. Banning has worked at Silver Creek from its opening, coaching the Boys' Basketball team as well as teaching Biology.
Banning has lived this rivalry from its beginning, and he has seen many great moments. He projects this attitude onto his players, and emphasizes the importance of their effort and physicality.
Senior Guard Zach Schmeeckle has been leading the Raptors all year with his crafty play and ability to score the basketball. Schmeeckle has worked hard to expand his game and involve everyone on the floor.
"The scoring is there but I feel like I have to get other people involved. If we have three or four dudes in double digits every night we're going to be winning games, so I just have to look to get others involved."
This mentality has reaped rewards for the Raptors, leading them to a 15-8 regular season record, scoring 62.7 points per game.
In the Boys' game February 15th, the Raptors beat the Trojans on Wednesday night 63-57, in a hard fought performance that saw Schmeeckle score 21 points. The Raptors maintained a slight edge the entire night, culminating in a six point victory.
"I think we executed really well at switching in and out of different presses and zones on defense which frustrated and threw them off," Schmeeckle reflected. "We also did a great job avoiding turnovers, we had only nine the whole game which was our lowest total of the season."
This big win should give the Raptors a great boost to make a run in the State Playoffs.
Schmeeckle said, "We've got some good momentum going, we just need to execute and do what we do, don't get intimidated by the team we're playing and just go out and have fun."
The Raptors picked up a 67-42 victory on Senior Night against the Greeley West Spartans, as well as a 60-51 W against the Northfield Nighthawks in the first round of the 5A State Playoffs, before ultimately falling to the Mesa Ridge Grizzlies 79-50 in the second round.
Leave a Comment
About the Contributor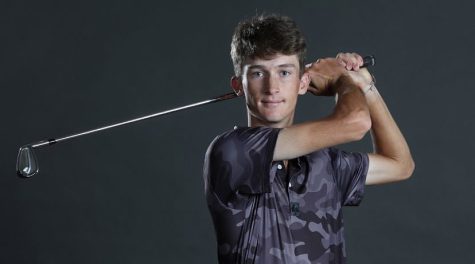 Ben Harding, Staff Writer
Ben Harding is a Senior at Silver Creek High School.  He is an editor for the Talon Tribune.  He enjoys playing golf, skiing and fishing with the boys. ...