Stick Season Review: An Unforgettable Album
'Stick Season' – Noah Kahan – Genre: Folk- October 14, 2022.
Noah Kahan's long awaited album did not disappoint when it was finally released.
The bittersweet lyrics of upcoming artist Noah Kahan's newest album, 'Stick Season', depict the life of someone growing up in a small town. Kahan captures the feelings of being trapped at home while expressing his love for the place he lives at the same time. This creates the perfect balance of emotion and hope while still bringing awareness to mental health.
Reflecting off of people and places, Kahan brings attention to the emptiness of the colder season. By doing this, he recognizes seasonal depression along with a feeling of melancholy.
While making this album, Noah Kahan's main hope was to highlight the term "stick season". He explained the term as a way to describe the miserable time of year when everything is super gray, when there's no snow but no foliage either, like a transitional period. By focusing on this term, Kahan offered a raw perspective of the anticipation for change that isn't coming.
He did an incredible job expressing his own perspective while still being able to connect with his listeners. In his song, "Growing Sideways" he expresses the struggle of moving forward with change. The song states, "Cause' everyone's growing, and everyone's healthy, I'm terrified that I might never have met me." Kahan is able to compare his life to others in similar situations as well as reflect on his personal hardships. This creates a beautiful representation of raw insecurities and emotion while still conveying an honest outlook on life. His honesty is relatable but also brings support for listeners who can understand these emotions.
Telling a different story through each song, Kahan also becomes very open about past situations that have forever changed his life. He is very vulnerable and emotionally intelligent through his song "Orange Juice." While singing about a traumatic drunk driving accident, involving a loved one, he expresses someone going through a personal transformation and becoming sober. By supporting someone who is practicing sobriety, Kahan becomes very vulnerable with the audience. He creates a very space safe for his listeners while still being able to express himself.
With high anticipation for this album to release, there was a lot of pressure on Noah Kahan and he did not disappoint. Stick season successfully illustrates the conflicting emotions of seasonal depression, feeling trapped, and loneliness in his newest album by creating a true outlook on life and challenges along the way.
Leave a Comment
About the Contributor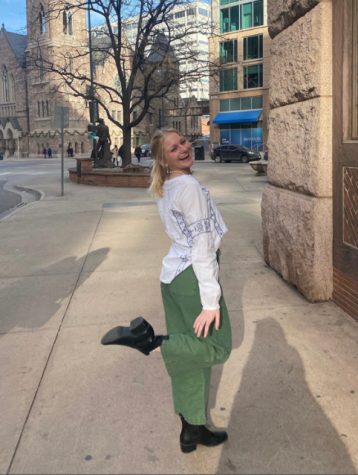 Tessa Bantowsky, Staff Writer
Tessa Bantowsky is a Junior at Silver Creek High School. This is her first year taking Journalism. Tessa is excited to write for The Talon Tribune and...