The Deep-Seated Traditions of the Farewell Choir Concert
For over seventeen years, Silver Creek High School's choir department has held an annual "Farewell Concert" at the end of the school year to honor graduating seniors and celebrate the community that choir has built throughout the school.
It's generally regarded as a more 'laid-back' concert than some of the others held during the school year, but it has several key differences such as the inclusion of choreography and outfits other than the typical floor-length dresses or suits.
"The Farewell Concert is less formal, features more popular music, and gives the ensembles a chance to add some 'choralography' to their performance. Students have more input into what the repertoire will be and selected pieces are choreographed by them as well," said Jeremy Skelton, the choir director at Silver Creek High School.
But even if it's a relaxed event, it still carries years of traditions that symbolize comradery and the ways people have been united through music. Although the concert's base structure has stayed the same throughout the years, some challenges like COVID-19 made adaptations necessary.
"We've had online concerts where all of the choir members would submit a recording of themself singing the songs and then Mr. Skelton would edit them together ([during] my freshman year)," said Katie Plath, a senior who has been in choir at Silver Creek since their freshman year. "While not an ideal setup, I'm still grateful that we were able to come together as singers at the end of each year."
Despite these past difficulties, the farewell concert's important customs have stayed intact. These traditions surround the performances themselves and the students that have dedicated themselves to choir.
"Traditions during our farewell concert include a slideshow of pictures from different choirs (although I'm not sure if they're doing it this year, but it's happened for previous years), each choir giving their graduating seniors gifts to wish them well, and specific songs…" said Addison Brents, a sophomore at Silver Creek and a member of the Bella Voce choir, an auditioned treble ensemble.
One of the ways that students are recognized during this concert is through a series of awards and "choir letters", which they can be nominated for by their peers. There are also several awards dedicated to the seniors in each ensemble.
According to Skelton, "There are three major senior awards: Raptor Award for Spirit and Dedication, Inspiration Award, and Outstanding Choir Member Award."
Awards like these are amazing ways to recognize seniors who have put so much time and effort into the choir community and have strengthened it throughout their time in any of Silver Creek's choirs.
In addition to special awards, there are a few other ways seniors are acknowledged. Every year ensembles will gather gifts to present their graduating seniors as a parting gifts and well wishes for whatever future endeavors they may have, whether that be college, a gap year, or jumping into the workforce.
"My favorite tradition is the senior gifts because they always turn out really heartfelt and sometimes they get a little funny," said Brents.
Senior gifts may seem like a small gesture but they can really demonstrate the bonds choir members form with one another. And those bonds can be incredibly important. Choir is a very community oriented art, and along with that, a lot of choirs value tradition. Having select traditions, such as the songs some choirs perform, can showcase the community itself in meaningful ways.
Every year, 'Bridge Over Troubled Water', is sung by all of Silver Creek's choirs: Treble, Tenor Bass, and Concert Choirs, as well as Bella Voce and Chamber Singers.
Each choir concert at Silver Creek tends to end with a song sung by all of the choirs, and the farewell concert is no different on that front.
Having the opportunity to sing as a combined choir can represent the community shared by all of Silver Creek's choir students, and having songs (another being 'Betelehemu', which is regularly performed at the Winter Gala) serve as a recurring tradition only makes it more meaningful.
It's tradition even stretches outside of the choir community at times. According to Plath, "At graduation, Concert Choir, as well as the other senior choir students, sing 'Bridge Over Troubled Water' for all the graduating class."
But apart from 'Bridge Over Troubled Water', some of the other choirs have traditional songs of their own. An example of this is Bella Voce's yearly performance of 'Homeward Bound', arranged by Jay Althouse.
This song already has a lot of meaning among choirs from many different schools, and throughout the years it has become quite symbolic to Bella Voce as a whole.
"Performing 'Homeward Bound' has been a Bella Voce tradition since before I started," said Skelton. "The piece is about moving forward in life with the realization that you always have a place to return to. The piece signifies the tight community that Bella Voce cultivates."
This song is not only used to celebrate community, but it's also another way that acknowledges the impact of the seniors in choir.
"'Homeward Bound' is a very powerful song, especially for Bella members. It starts with a solo that all the seniors sing, and later ends with a solo that the juniors sing," said Plath. "This tradition has become a passing of the torch, so to speak, from the seniors to the juniors."
An amazing thing about choral traditions is how something as simple as a song can hold such a deep meaning to those who find themselves surrounded by it.
In the end, it's the little things about choir and events like the farewell concerts that have the most importance.
Having an annual event that is so rich, in nearly two decades worth of traditions, truly showcases the choir community at Silver Creek and as meaneal as it may seem, there is a lot of value in being able to find something like that through music, which is already such a beautiful thing.
View Comments(1)
About the Contributor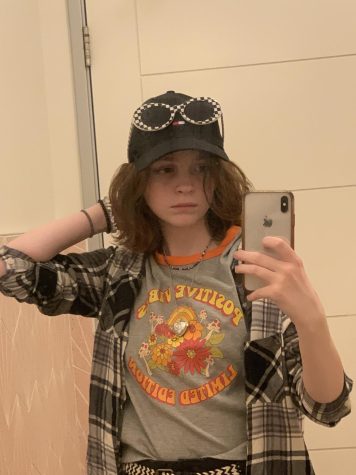 Daisy Tiner
Daisy Tiner is a freshman at Silver Creek High School. This is her first year in Journalism. She is taking journalism to expand her writing style and write...