OpEd: Why Students Should Be Involved In Clubs and Sports
At Silver Creek High School, there are 25 different clubs and sports that students are able to join. There is something to fit everybody's interests, whether that's in sports, arts, sciences, and more. Getting involved in activities at the school is a great way to spend time doing enjoyable things and meet new people who have similar interests.
When joining clubs and sports, a student doesn't need experience. They are encouraged to try new things at school. If students are looking for a new hobby, or to make new friends, joining an extracurricular activity could be just the thing.
Most schools have music, sports, arts, and academic extracurriculars offered, and these programs can help teach students valuable life lessons. It gives them experience with leadership, teamwork, and responsibility. This is also an opportunity for kids to be competitive, whether it's academically or physically.
Getting involved at school can also push students to do better in their classes. With eligibility in sports, more students are shown to have less absences and get higher grades to be able to participate in their sports.
The National Center for Education Statistics shares that kids involved in activities are more likely to preform higher in their class academically. They are also more likely to continue on after high school to get a higher education, and be more successful. And most kids involved in other activities are statistically shown to skip classes less.
VNA Health Care shows that along with being shown to do better academically, participating in extracurriculars can also help kids' mental health. By participating in these activities, it is shown that they can help boost self esteem, improve communication skills, create better friendships, and lower anxiety and depression. In some ways, these activities get kids to be physically active, and it makes them motivated to exercise. It improves their physical fitness and hand-eye coordination. These activities also help kids develop better social skills and cooperation. This can help them have better psychological and psychosocial health, because their self esteem is improved and show lower levels of anxiety and depression and higher life satisfaction.
A social studies teacher at Silver Creek High School, Justelle Grandsaert, shares that she highly recommends that students join sports and clubs at school. In high school, Grandsaert participated in volleyball, track, and cross country. She was also in the National Honor Society.
"It totally impacted me. I'm still a runner today and I ran in college." Says Grandsaert.
Participating in her high school sports, Grandsaert got a college scholarship to run track, and she has made many friends through running.
"It helped me have good discipline, make new friendships, and you can find mentors as adults." Shares Grandsaert.
By playing sports and being in clubs, it teaches students to use their time wisely. It introduces them to new people from the school that they may not have met otherwise. And, kids can meet inspiring adults who believe in them and help them to do better.
When talking about how being in sports and clubs is different than just being in a classroom, Grandsaert says,
"You can choose something you're really interested in. With clubs you can specialize in your own interests."
When joining clubs and sports, kids can really do what they enjoy doing. There also isn't any pressure to get assignments done so it is fun.
A freshman at Silver Creek, Delaney Ritchey, shared her opinions on why students should get involved in extracurricular activities. Ritchey is also part of the school's swim team and swims for a club team called Elevation Athletics in Boulder.
"It really opens up your social standpoint and you can make new friends." says Ritchey
By participating in clubs and sports it can expose one to new people and can help them socialize more and make new friends.
"I think it's really important to be active and good to be social." shares Ritchey.
Students should get involved in extra curricular activities. Due to the exposure to new things and people, and the physical, mental, and academic benefits of participating in these activities.
Leave a Comment
About the Contributor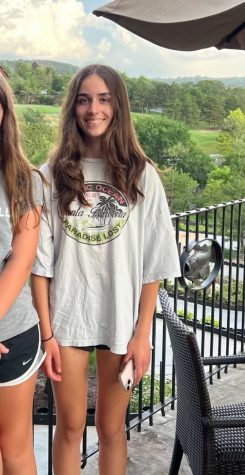 Charly Diekmann, Staff Writer
Charly is a freshman at Silver Creek High School. This is her first time taking journalism, and she is taking it to get better at writing. At the school,...