Señor Canedo: Super Substitute
Students that find themselves walking through the lower E-wing hallways will occasionally see a man standing outside of Spanish classrooms, often talking to members of the senior class and dishing out fist bumps. This man is Gerardo Canedo, who is a somewhat frequent substitute teacher at Silver Creek.
Canedo used to be a Spanish teacher at Silver Creek, but retired from full time teaching after the 2019-20 school year. As a Spanish one teacher, many ninth grade students became familiar with him during this time. These ninth graders are now seniors, and will be the last students to know him as more than just a substitute.
Known commonly as "Señor" among the class of 2023, Canedo taught out of one of the portables during his time as a teacher. Canedo's classroom was a great environment for learning, as he would use interactive methods to teach his students. He also took pride in teaching his students about Mexican culture, such as holidays and traditional foods.
Senior Zach Schmeeckle recalls some of the things that made his class memorable and his teaching effective.
"We did a lot of Kahoots and Quizlet lives, which were a lot more fun than worksheets," said Schmeeckle. "We also watched 'Coco' and spent time learning about the Day of the Dead."
Because of his friendly personality and fun class experience, Canedo quickly became a fan favorite of the students who had him as a teacher. However, he had already been teaching for a good amount of time and decided to hang it up, much to the sadness of his students.
"When I found out he was retiring, it was like getting blindsided," Senior Luke Riters said. "It was sad that the classes under us wouldn't get to experience his teaching."
When Canedo is substituting at Silver Creek, it is often intermittent because he is a frequent traveler. Seth Mendenhall, a junior at Erie High School, was lucky enough to have Canedo sub for him during this school year. Mendenhall and Canedo had a conversation about Canedo's travels during this time.
"He told me all about his trips to Mexico and Europe," said Mendenhall. "It was cool because it kind of inspired me to travel, and that it doesn't matter if you're older."
Canedo also has a truck that has been modified to allow for him to camp out of it, which he takes on road trips. This truck is frequently parked outside when he is substituting, which can be an indicator that Canedo will be on campus that day.
Once the class of 2023 is done at Silver Creek, students will only know him as a substitute, and not as the legendary Spanish one teacher from years past. However, those who are lucky enough to have him as a substitute will be able to create new memories with someone who will be sure to make their day better. Perhaps Canedo will find himself as a favorite substitute in the coming years. It isn't easy for a substitute to find himself making such a difference in someone's day, but all Canedo has to do is be himself.
Leave a Comment
About the Contributor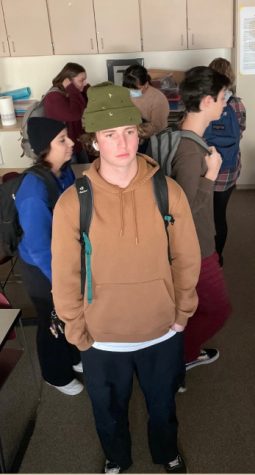 Ben Hrubesky, Staff Writer
Ben Hrubesky is a senior and this is his first year taking journalism. He wanted to take this course because he believes it may be something that he wants...