The Value of Mentoring Younger Students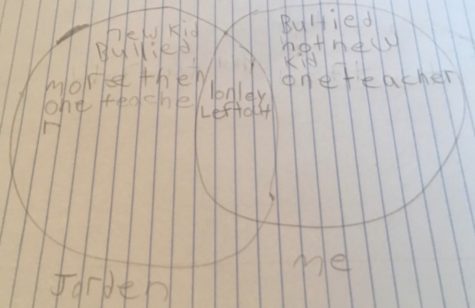 Madelyn Bowling-Garcia and Kayla Anderson, two sophomores at Silver Creek High School, met with three second graders from Prairie Ridge Elementary on WebEx, a video conferencing application, to have a discussion about empathy. The sophomores built a slideshow with text from a book called New Kid by Jerry Craft. The story follows a middle school boy named Jordan Banks. As the new kid of his school, he experienced bullying. The story follows the struggle Jordan faces, and the lessons of empathy for those around you. And they talked to the kids about how they could possibly relate and show empathy.
Everyone participated, and the second graders seemed to learn and absorb a lot from what their 10th-grade mentors were saying; adding things about bullying and empathy that weren't brought up in the slideshow. They gave more and more specific examples from their own lives as the lesson went on. Afterward, the kids wrote paragraphs on what they learned; more specifically, how they can relate their lives to Jordan's. Both sides learned valuable lessons from this experience. 
Through this lesson, a lot was learned about the benefits of mentoring second graders. According to youth.gov, mentoring younger children can create a better attitude about school, enhance their self-confidence, improve their behavior at home and school, and improve the social skills of the mentees. 
Conversations and lessons with an older more experienced student give students some of the same messages, like anti-bullying, work ethic, empathy/sympathy, etc. that adults have been trying to give them. The difference is that it's coming from someone younger, who may remember or relate more to the younger children. Someone who could possibly say it in a more understandable and relatable way for younger students.
Being taught by younger mentors can also create a sense of trust that helps the kids open up more than they would to someone much older like a teacher or parent. Young mentors can relate more to what the kids are telling them, and this allows the kids to feel more understood.
"I really think it was good for the kids to have someone younger to talk to about empathy and bullying in other's lives and their own," said Kayla Anderson, one of the sophomores that was a mentor in the project, "By the end of the call, everyone had come forward about bullying and the use of empathy in their lives."
These lessons have positive outcomes for the mentors as well. Being a mentor to children can increase self-esteem, create a sense of accomplishment, and increase patience and supervisory skills. Being a mentor can prepare someone for leadership situations in their future, like being head on an important project, or working with others to complete a common goal. 
Madelyn Bowling-Garcia, one of the sophomores involved, explains this isn't her first time being a part of a mentorship program. "Back in middle school, I was a part of the mentorship program," said Madelyn Bowling-Garcia. "That whole year I worked with my mentee, and I could see the change within both of us. My mentee became more independent, and my social skills and leadership role grew stronger. The experience with these three students was fairly similar.".
In both instances, Bowling-Garcia was mentoring younger kids. For her middle school experience, she helped her mentee tackle school better. She helped with time management, organization, and independence. On the WebEx call with the second graders, Anderson and Bowling-Garcia mentored them about empathy and how they can be more empathetic towards others so that they can help themselves and others around them.
Bowling-Garcia noticed that the lesson impacted all the mentees in a similar way. All of them opened up. These kids went from being really quiet and not participating in engaging and talkative. At the end of the WebEx, Student A even yelled "This is the best day ever!".
When talking about the novel New Kid by Jerry Craft, students A, B, and C broke down sections of the book and focused on the bullying happening to Jordan. Only to share with everyone they've shared similar experiences of being bullied. 
After the WebEx meeting, the students filled out a Venn diagram about similarities and differences between them and Jordan. Following that writing a paragraph based on the things they used in the Venn diagram. In Student B's paragraph, they said "One thing that is the same is we were both lonely and felt left out". They were comparing a section in the book when Jordan claims he feels lonely and left out on the first day. Since Jordan is the new kid, people didn't pay attention to him and was swept to the side. After our discussion on how everyone can be empathetic towards each other, Student B finished off by saying "As you can see, Jordan and me are a little different, but we both need empathy".