Small But Mighty Girls Boulder Rugby
Rugby is a sport that offers athletes many characteristics such as skill, competitiveness, courage, and self respect. After two years of having the club sport offered at Silver Creek High School, girls are finally starting to see all of those attributes on and off the field.
Jane Coppinger, a math teacher at Silver Creek, coaches the team composed of girls from Boulder County, and is excited to watch these girls this season after all their hard work to learn the game.
Jane Coppinger started Boulder Girls Rugby two years ago. Coppinger played Rugby in college for a club team at Colorado State University. She hopes to see this sport grow with new recruits.
Coppinger says, "[It] doesn't matter what size you are, you can be a million billion pounds or itty bitty, I have a place for you. Doesn't even matter your athletic abilities, we can get you out there." Rugby truly does teach about self respect and courage, and is an overall very inclusive sport as well.
Senior Libby Burton, has been playing Rugby since it was introduced to the school, and is hopeful about the upcoming season.
"I'm feeling really good about the season," says Burton. "We are all growing and learning together and the team is so strong." She's found a community and family on the team and even on her best friend through the team as well. Burton states, "My favorite part about the sport is getting to meet so many people that are also passionate about the same things I am. My teammates are my best friends."
As for the seniors that have been here since rugby entered the Silver Creek environment, they are hopeful in wanting to find more girls to play to keep the club running. The Rugby environment is very inclusive and also contains hard work, but in the end is so rewarding.
For those interested in checking out the sport and are interested in trying it out, Coppinger explains the logistics of tournaments. She says, "We have tournaments almost every Saturday and they are somewhere in the state, so we don't fly out of state." Coppinger also explains what tournament days look like. Coppinger says, "Usually we all carpool to a place, play three games at a tournament and then head home, but games are only about 15 minutes long, so you can fit three in a day and then have an afternoon to yourself."
Amaya Rose, also a Senior on the team, has found community on the team as well. Rose started her Rugby journey with just a curiosity of a new sport to try out, but has now grown to be very passionate about the sport.
Rose states, "Do it! There are no tryouts and it's all inclusive and a great sport to play. If you want to tackle and make lifelong friends I would gladly suggest doing it."
If you're interested in Girls Rugby, go visit Jane Coppinger for more information and she will find a spot for you. It's an inclusive sport that has so much to offer.
View Comments (4)
About the Contributor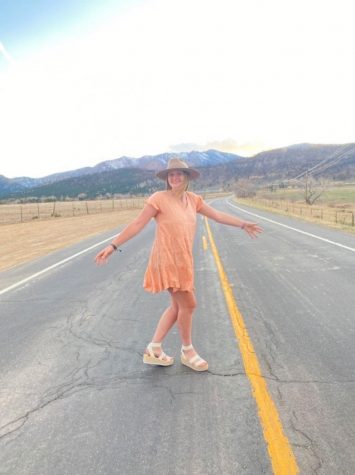 Mayson Bogrett, Staff Writer
Mayson Bogrett is a senior at Silver Creek Highschool. She loves staying active and being with her family and her dogs. She is taking journalism this year...